Woman has reportedly died after being partially sucked out of US passenger jet
Publish Date

Wednesday, 18 April 2018, 9:36AM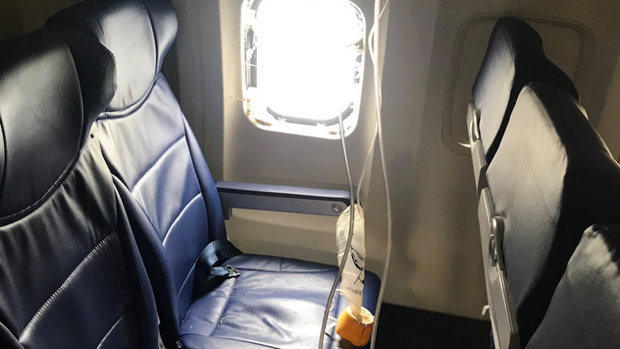 A woman was partially sucked out of a passenger jet - and pulled back in by other passengers - after their jet's engine exploded over the US, shattering a window.
The woman survived the horror with critical head injuries and was rushed to hospital after the plane made an emergency landing.
Latest reports say one person has died, but it is unclear if it is the woman or another passenger who might have suffered a heart attack. Seven others were injured.
The Dallas-bound Southwest Airlines flight from New York landed in Philadelphia after the engine blew out, causing panic and chaos among the 143 passengers, and five crew.
Passengers said they were injured by a piece of shrapnel which blew from the engine into the side of the plane and shattered one of the windows at 32,000 feet.
"One passenger, a woman, was partially … was drawn out towards the out of the plane … was pulled back in by other passengers," Todd Bauer, the father of another passenger on board, told NBC 10.
The woman was taken to hospital in a critical condition, reportedly with head injuries. One witness said there was 'blood everywhere' as a result of the accident.
A nurse and an EMT who were also passengers helped the woman until the plane landed.
Terrified passengers shared videos and photos from on board before the plane landed. One filmed himself as he fitted his oxygen mask.
"Something is wrong with our plane! It appears we are going down!
"Emergency landing!! Southwest flight from NYC to Dallas!!' Marty Martinez said as he broadcast live from the plane on Facebook.
He shared photographs of himself and others fitting their oxygen masks as the plane went down. The first sign of trouble was a loud noise which happened when the engine exploded.
Timothy Bourman, 37, was sitting at the back of the plane when he said he heard a loud "boom".
"All the sudden, it felt like we dropped 100 feet. Everybody knew something's going on.
This is bad, like really bad. A lot of people started panicking and yelling, just real scared.
"We were kind of out of control for a while. It seemed like the pilot was having a hard time controlling the plane. Honestly I think we just all thought we were going down," he told Philly.com
Bourman, who was travelling with his wife, said they thought they were about to die until the pilot managed to gain control of the aircraft.
"We're just all really thankful to be alive right now. Thankful to God, thankful to that pilot," he added.
His wife Amanda Bourman said: "I just remember holding my husband's hand, and we just prayed and prayed and prayed. And the thoughts that were going through my head of course were about my daughters, just wanting to see them again and give them a big hug so they wouldn't grow up without parents."
Matt Tranchin was sitting three rows behind the window that smashed.
He described the chaos and said even the flight attendants were crying in fear.
"Flight attendants rushed up. There was momentary chaos. Everyone kind of descended on where this hole was. As passengers we weren't sure if they were trying to cover up the hole, but the plane smelled like smoke.
"There was ash coming through the ventilation system. We started dropping" he told ABC News.
"As kind of an indication of how terrifying it was, some of the crew couldn't hold back their horror.
"And some were crying as they looked out through the open window onto the engine," he said.
As the plane made its descent towards Philadelphia, the crew warned passengers to brace for impact.
The plane had not long departed from LaGuardia Airport in New York City when it was forced to land. It was on its way to Dallas.
The first sign of trouble was a loud noise as the engine exploded.
In a statement, the airline said: "Southwest Airlines flight 1380, which departed LaGuardia for Dallas Love Field , diverted to PHL because of an operational event.
"The plane landed safely. No slides were deployed."
The female pilot, named by passengers as Tammy Jo Shults, called air traffic control and asked for paramedics to meet them, saying: "We have a part of the aircraft missing."
Asked if the plane was on fire, she said: "No, it's not on fire but part of it's missing. They said there is a hole and someone went out."
Another passenger told CNN: "It was a stable landing. We started descending, made the turn back to Philadelphia.
"We were with one engine for maybe 10 minutes.
"We decreased altitude from 8,000 to 5,000 and then when we finally landed it was relatively smooth, kind of a typical landing so the crew and the pilots did a fantastic job."
The National Transport Safety Bureau is now investigating what caused the engine to explode.
This article was first published on dailymail.co.uk and is republished here with permission.