Air NZ crew's heartwarming help for neglected pup in Japan
Publish Date

Saturday, 19 August 2017, 8:46AM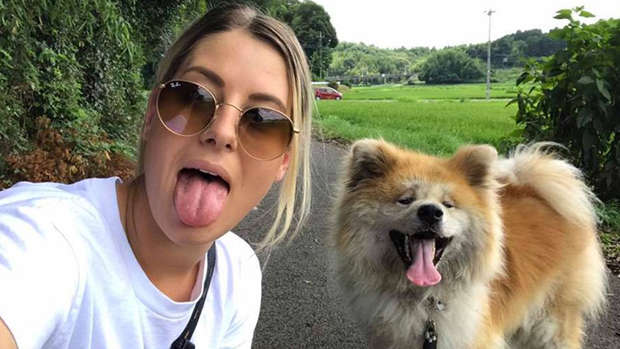 A neglected pup in Japan is being nursed back to health by a group of Air New Zealand cabin crew who spotted her outside a service garage in Narita during one of their layovers.
They approached the owner, who spoke little English, and with the help of a translator it was agreed crew members could take the dog, named Mosako, for a much-needed walk.
Crew member Angela Edgar said on that first walk Mosako was so weak that her back legs kept giving way and she couldn't climb stairs. She was living in what Edgar described as "awful conditions" that brought her to tears.
But since that first encounter, Mosako has flourished thanks to several members of the Air New Zealand crew who have taken her under their wing, helping the owner provide better care for her.
Mosako now has a Facebook page followed by crew members to keep those going to Narita updated on when she was last visited and walked. And they take special care to make sure the pooch is kept company during weekends when her owner is away.
When the Kiwis first met Mosako, she was afraid of water. Now she loves being taken to a nearby river to play.
While Mosako's owner doesn't have much spare time to walk or groom her, the crew say they feel encouraged to see the improvements the owner has tried to make since Mosako has been taken on by the group of Kiwi flyers.
Crew member Kobi Bracken, who had just gone on her first walk with Mosako when she spoke to the Herald, said there's a real effort to make sure the dog is in good hands.
"We are all trying to get involved and make sure she is happy and healthy and gets as much time off her chain as possible.
"Crew have brought her toys and a new lead from home that gets kept by her kennel for the next crew flying in."
Bracken described Mosako as a "beautiful pup" who is "just the sweetest" and said she cannot wait for more adventures with her new pal.
In Japan groomers request vaccination papers before grooming dogs. With the help of translators the crew are working hard to get Mosako's papers so she can have a haircut and be made to feel more comfortable during the hot Japanese summer.
Edgar believes the crew's small gestures have made a huge difference in the now happy dog's life and hopes it will encourage others to speak up when they see something that doesn't seem right.
"Share what you think is important and other people will come on board with you."
Edgar said the experience of caring for Mosako with her team has had a positive impact on how she looks at her workplace too.
"It's really made me appreciate the Air New Zealand ethics and community as well."
An Air New Zealand representative said Mosako's care is one of a number of initiatives taken up by Air New Zealand crew members around the world.
"It's not uncommon for our crew members to be involved in these kinds of activities while offshore. For instance, in China crew support a local charity orphanage including spending time with the children and bringing donations of clothes, bedding and toiletry items."
Source: NZ Herald.