Anxious mum worries that giving her children 10 Christmas presents each isn't enough
Publish Date

Tuesday, 14 November 2017, 8:00AM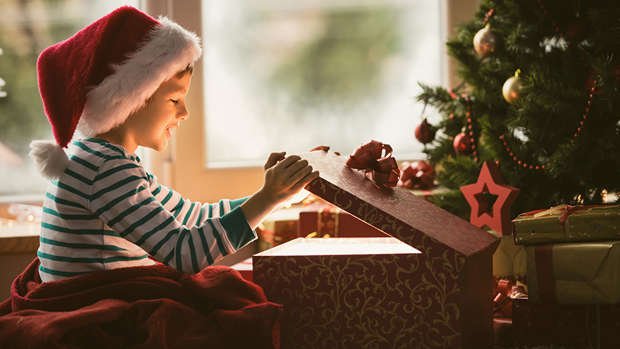 Christmas is still over a month away but some organised parents are already planning what gifts to give their children.
While many will have ideas on what to buy for their little ones, it can be difficult to know just how much to spoil them, the  Daily Mail reports. 
Taking to Mumsnet, one anxious mother admitted she was planning on buying her children, aged seven and a few months, 10 gifts each but did not know if it was enough. 

Asking others for advice, she wrote: "Previous years I have just bought as I saw fit but having 2 kids this year I want them to have same number things.
"Is 10 things each to open on Christmas morning enough?"
The question sparked a debate on the online forum, with parents suggesting that it was "too much" - while others revealed they would give five times as many. 
One shocked parent posted: "Ten things?! Crikey, mine are only getting 2-3 things, and a filled stocking. I think the more you give them the more they expect."
Another agreed: "Mine get two presents from Santa (one fun one, one practical one), and one from us. We then go and visit family and they get some more from grandparents, aunts m, etc but nowhere near 10." 




Others offered clever ways of making it look like the children have more than they actually do.  
One resourceful parent wrote: "Kids just love the unwrapping I find, so i wrap up every present. I spend more time focusing on how much money I spend.
"Usually 1 expensive present each, 2-3 affordable ones, lots of little bits that were under £10. I even wrap stocking fillers."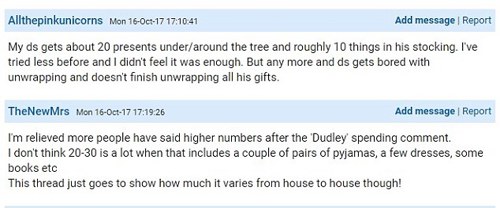 Another suggested: "I've never gone by number of presents, I've always gone by how much I've spent and try to keep them all roughly the same amount. As they get older though the piles definitely get smaller."
However, there were some who thought 10 presents was nowhere near enough to unwrap on Christmas morning. 
"I actually feel embarrassed by how much mine get when people have said 10 is reasonable," one bashful mother shared. 
Another parent posted: "Mine get a large stocking each, chocolates and small bits. And I'd say they maybe get about 20 each from me, maybe more maybe less."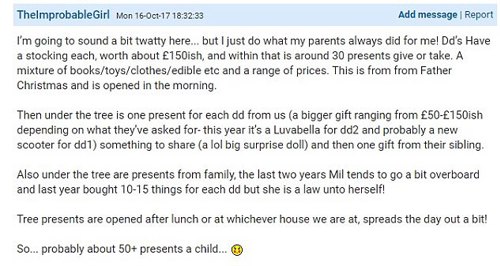 This article was first published on Daily Mail and is republished here with permission.