The reason this Kiwi woman gave up her Bruno Mars tickets will warm your heart
Publish Date

Thursday, 1 March 2018, 9:00AM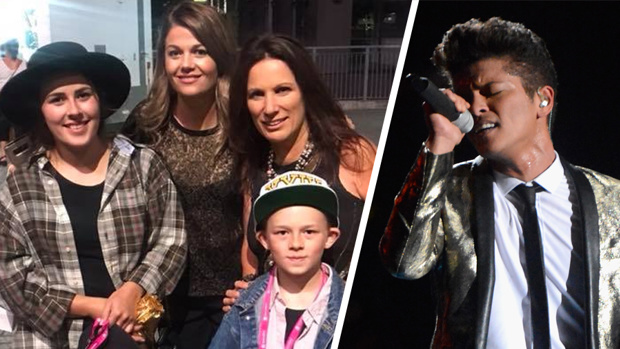 One kind-hearted Kiwi woman turned someone's terrible night into one they'll be sure to remember forever.
Carmen Bird was heading to Bruno Mar's concert with her friends in Auckland when she noticed a young boy crying with his young mother outside Spark Arena.
"We went over to him and said, 'What's going on?'" Carmen, told Sarah, Sam and Toni this morning.
As it turns out Jessie and Nariah from Christchurch had been given Bruno Mars tickets as a Christmas present from their Grandma, but they were fake!
Watch Carmen tell her amazing story of kindness:
The tickets had been bought for $700 from the website Viagogo and to their dismay, weren't actually valid.

"The tickets had been cancelled," said Carmen.
So being the amazing women that they are, Carmen and her friend Alison did the only thing they could - give them their tickets.
"We just gave them our tickets. It's a no-brainer really," she explained. "They were rapt, they were really happy. He was so stressing. I don't know that he believed us until we gave them the tickets."
Taking to Facebook, Carmen wrote:
"At Bruno Mars, a couple of kids have bought fake tickets (their Nana paid $700) and can't get in or buy more as sold out!
"Alison and I gave them (Jessie & Nariah) our tickets they had a great time, and two of our party left early so we got in for a bit so all good!"
After hearing Carmen's heartwarming story Sarah, Sam and Toni decided to repay her unbelievable good and selfless deed with a double pass to Celine Dion!
Good on you Carmen, you are a true every-day hero!
Listen to Carmen's full story: