BLOG: Martin voted in as Batman
Publish Date

Tuesday, 14 October 2014, 11:08AM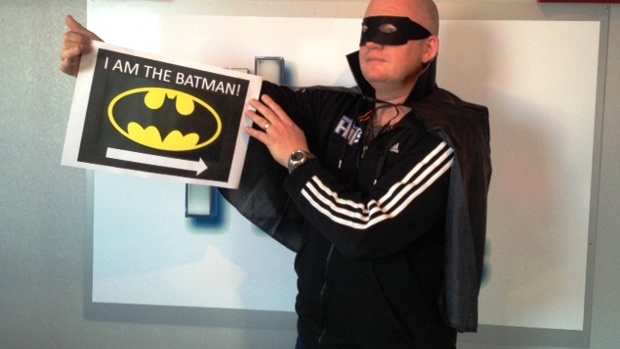 Usually, when it comes to getting excited about birthdays, children take the cake. They count down the days on the calendar, circling the big day and reminding everyone just how long there is to go and which presents would suit them best. And generally, you get to a certain age in life where even thinking about turning another year older brings on feelings of dread. Unless your name is Martin Good. 
He gets so ridiculously excited about his birthday it puts five years old the world over to shame. He even celebrates his half birthday (which is halfway between his last birthday and the next one, for those who have never heard of this ludicrous notion before). As he makes such a huge deal of his birthday every year, Sarah decided she would join in the celebration and greeted him on Monday with a heartfelt poem and a giant cookie she baked just for him! 
Clearly Martin ignored Sarah's advice in the poem, where she suggested he take it easy with the celebrations as recovery time is a little longer these days.  He overindulged on the cookie and cake and arrived at work yesterday with a food hangover. 
The week only got better for Martin as he was crowned the "Batman" of the show with 52% of the votes. Sarah is naturally gutted and considered asking for a recount, but didn't want to find herself in the same situation as Hone Harawira and actually end up with less votes. 
As part of his campaign, Martin publically pledged to get special Batman stickers made which people can stick on the windshield of their car to get a free upsize at a certain fast food chain. Which sounds great and let's be honest, is probably the only reason more people voted for him (according to Sarah). However, as is typical with Martin, he has not actually organised any of this.  Has he even floated the idea past the owners of any fast food places in the Bay? No he has not. But he assures "his people" that he will deliver on his election commitment, somehow, some way. 
Sarah thinks Martin is now fitting in nicely with the stereotypical politician – full of hot air and broken vows. She has given him 6 months to make good on his promise, good luck Martin!