BLOG: Paddling for a great cause
Publish Date

Tuesday, 2 December 2014, 1:12PM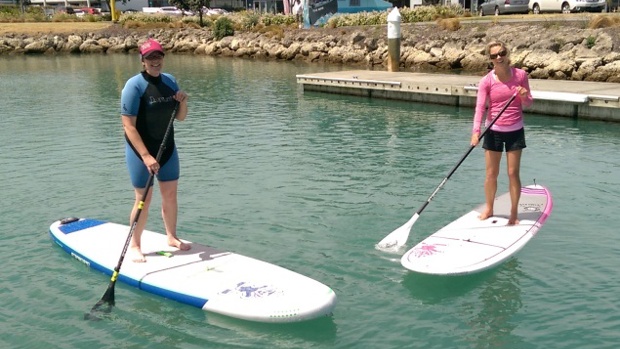 While Martin was away last week, Sarah once again donned a wetsuit (second time in 2 weeks!) and gave Stand Up Paddle Boarding (SUP) a go. Or in Sarah's case Butt Out With Arms Whirling While Desperately Trying To Keep Her balance Paddle Boarding.  Sarah is no natural at this particular sport; she almost fell in several times (achieving the great splash once) and when she did actually manage to keep herself upright and paddle, sea slugs were seen to overtake her. This is a woman who has trouble staying upright while walking on solid ground after all.  You can check out the video of Sarah attempting to Paddle Board HERE
But she did have a great deal of fun and it's all for a great cause.
On the 31st of January, for the very first time in Hawke's Bay, the Napier Port Paddle for Hope will take place at Pandora Pond.  Individuals, families and businesses enter teams of 4 to take part in a SUP Relay Race.  There will also be have-a-go lessons on the day and sprint races.  The event is raising money for the Pinc and Steel Cancer Rehabilitation Trust, which provides rehab for men and women who have gone through cancer treatment.  Approximately 1000 Hawke's Bay people are diagnosed with cancer every year and there is no government funding for the rehabilitation of cancer patients, so this is a great way we can all help.    More details can be found HERE and if you're keen for a lesson, get in touch with Marty on 027 3934 884 or email by clicking HERE.
Some advice from Sarah...try and have a lesson on a day when there's not much wind (hard to find a day like that at the moment!) Because Sarah was going so slow, at times she actually moved backward.  So the second piece of advice would be to try and go slightly faster than Sarah.  Apparently the faster you go, the easier it is to balance...which could explain why Sarah resembled a windmill so much of the time.
Quite seriously, if Sarah can do it, anyone can. But just to make sure, Martin will also be giving it a go in the near future...and yes we'll have a video of that too!