Publish Date

Tuesday, 27 January 2015, 9:54AM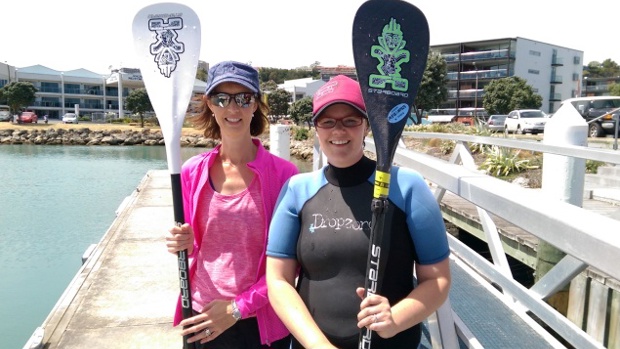 We've got a big event coming up this weekend that we'd love you to come along to. 
The Napier Port Paddle for Hope is on between 10am and 3.30pm this Saturday at Pandora Pond, raising money and awareness for a fantastic cause, the Pinc and Steel Cancer Rehabilitation Trust. It's the first time this event has been held in Hawke's Bay and it's sure to be a great deal of fun with professional paddle boarders and complete amateurs donning their best pink outfits and hitting the water. Not literally hitting the water though, unless their name is Martin Good. 
Martin had his first stand up paddle boarding lesson last week and was really excited about it.  He even convinced Sarah that we should have a race.  Sarah reluctantly agreed, but once she saw Martin attempt paddle boarding the reluctance faded and she was fairly confident she would be crowned the winner.  Martin seemed to miss the part of Stand up paddle boarding where you stand up. He stood up, then fell down. Over and over and over again. 
Sarah stopped counting after his 9th swim, but to be fair to Martin, he may have had the wrong size board…surely it shouldn't be that hard to stay upright!  Once we got the correct size board for him, he only fell off once more, in quite a hilarious fashion. Check out the video on our website.
Sarah was pleasantly surprised by how easy she found paddle boarding her second time round, so hopefully Martin should have the hang of it by Saturday!  Sarah was only upset that she couldn't wear her personal tracker on the water and missed out on those extra steps! Yes the daily step challenge is still going strong in the van der Kley family and great lengths have been taken by Sarah and her sister to beat their super fit mother.  Sarah's sister has actually worn a track into the carpet of her lounge trying to up her daily steps.  Sarah did finally manage to take the win on the weekend, only to have her mother respond that she'd "not done much walking that day and thought I should let you win at least once." Thanks Mum!
*All the details about this Saturday's even can be found at paddleforhope.co.nz