Publish Date

Tuesday, 3 February 2015, 11:14AM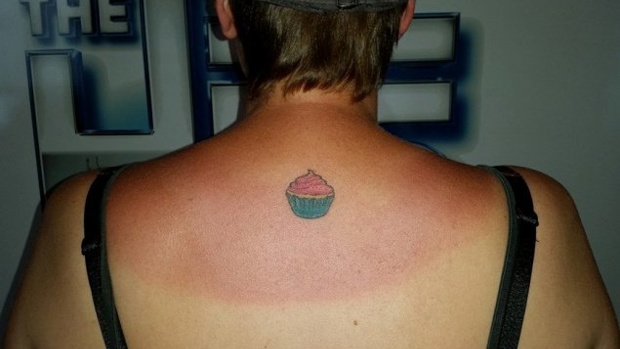 We had a great time on Saturday at the Napier Port Paddle for Hope.  Pandora Pond was awash with pink as people practiced and competed in paddle boarding sprints and relays.  
Sarah even had a go in the women's sprint race and came third!  At the wrong end.  Around $25,000 was raised for the Pinc and Steel Cancer Rehab Trust, so a massive thank you to everyone who took part or donated.  Although it started off cloudy and a bit wet, the weather soon cleared up and the Hawke's Bay sun came out in force. 
The Cancer Society were there and kindly provided free sunscreen.  Sarah made a point of mentioning several times over the loud speakers where the sunscreen was located, how important it was to be sun smart and that "it wouldn't be a good look to get burnt at a cancer fundraiser." And the hypocrite of the week award goes to Sarah van der Kley. While she did apply some sunscreen, it clearly was not enough and Sarah got incredibly burnt whilst warning everyone else not to get burnt. The sunburn is a bib of red covering her neck, shoulders and the top of her back and chest, which Martin gleefully refers to as Sarah's Ring of Fire. 
Sarah's not looking for sympathy, she's well aware the pain she's in is her own stupid fault.  She is now a walking billboard for being sun smart, not sun dumb and will no doubt always remember the benefit of sunscreen in the future.  Martin is not enjoying the sunshine much either.  Not because of sunburn (he's a ginger so is always very careful about applying sunscreen!) but because he's now a country bumpkin and requires rain to fill his water tank. 
Watching the weather forecast with Martin has become quite the source of entertainment.  He's either yelling at the screen, urging the weather man to change his mind in quite colourful language, or he's sitting there rubbing his hands together making weird grunting noises. Not sure even farmers get as excited about rain as Martin does these days, and they require it for their livelihood.  Martin just needs it so he can shower. 
This, according to Sarah, is equally important, as she has to spend many hours with the man in a small windowless room.