Check out our lucky listeners starring in the "You're Invited" campaign connecting Hawkes Bay and Dunedin
Publish Date

Tuesday, 26 July 2022, 8:55AM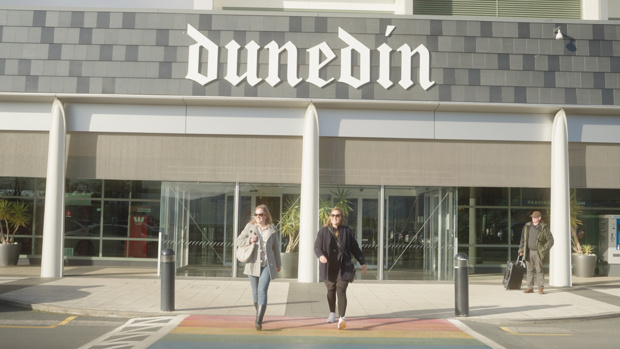 Hawkes Bay and Dunedin just got that little bit closer with the help of local jetsetters enjoying each other's regions.  'You're Invited' is a collaboration between Hawkes Bay Airport, Hawkes Bay Tourism, Dunedin Airport and Enterprise Dunedin aimed at boosting tourism between the two centres.
Supported by Adam and Megan on The Hits Hawkes Bay, and Callum and P on The Hits Dunedin, the campaign kicked off with local listeners being invited to star in the supporting tourism videos alongside a member of the respective breakfast shows.
"I actually started my radio career down in Dunedin, while Adam is always talking about the fact he can't remember seeing much of the South Island, so I begrudgingly recommended he be the lucky one that jets off.  Funnily enough he didn't put up too much of an argument" said Megan Banks.
Meanwhile down in Dunedin, Patrina Roche from The Hits with Callum and P, had never been to Hawkes Bay so again it was a no-brainer.
"My favourite wine is produced in Hawkes Bay and I love the heritage of Art Deco so to experience it for a couple of days and get out of the studio wasn't a hard sell" she said.
Both shows were happily inundated with listeners excited to be the faces of the campaign.  Hawkes Bay locals Shona Bray and her friend Tilly were the lucky ladies that got to explore Dunedin, while Otago sisters Andrea Long and Kirsty Lawson enjoyed the beautiful Hawkes Bay region.
From craft beer to wine, to fashion and world-class food, both Dunedin and Hawkes Bay put on an amazing couple of days for The Hits explorers with special emphasis on local producers. The Dunedin winners enjoyed Craggy Rage, The National Distillery Company, Teresa Bar, Bellatino's, Piku and an Art Deco Tour.  Down South, the Hawkes Bay winners experienced Emerson's Brewery, Titi Restaurant, No.8 Distillery, Bacchus Wine Bar and Restaurant and Fable Hotel as well as Larnach Castle.
Rob Stratford, CEO of Hawkes Bay Airport, is excited to see the campaign come to life.
"This is a first for New Zealand in terms of two airports working together to stimulate tourism.  We hope this campaign will encourage our friends in Dunedin to visit the beautiful Hawkes Bay and vice versa".
Richard Roberts, CEO of Dunedin Airport agrees.
"This is how airports should work together. We've created something that will benefit both regions, and we're really proud to see local people starring in the campaign footage now playing throughout the airports".
After a whirlwind couple of days filming, the four lucky radio station listeners overwhelming agreed they loved every minute of starring in the 'You're Invited' campaign and can't wait to visit again.