Column: And The Winners Are....Not Us
Publish Date

Tuesday, 26 May 2015, 1:57PM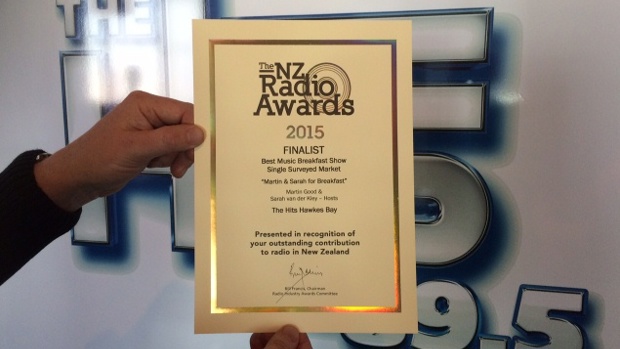 After twice losing out to other breakfast shows around the country, we really thought that 2015, our third time as NZ Radio Awards finalists, would be the year we brought home the trophy.  Alas, it was not to be.  Mainly because there is no trophy, just a nicely framed certificate.  And also because we lost.  We did get a certificate, but we have to frame it ourselves.  
We did however make the most of our big day out!  After arriving in Jaffa land midmorning, we were off to our central city hotel for a quick costume change, which took place in the pool shower as our rooms were not yet ready.  We weren't sure where in the Sky City complex the restaurant we were booked in for lunch was located so we stopped at the information desk.  "Gidday," says Martin in his deepest, most country-bumpkin voice.  "We're here for lunch at Gust Oh."  We were met with a look of confusion before the information clerk's eyes lit up and he replied in a thick French accent "Oh you mean Goostoh?  It's over there."  
We quickly found the restaurant and discovered there was a seating plan.  And that's where Sarah's problems began.   After realising she was seated at a table with some of our company's big wigs, Sarah reached for a glass of wine to ease her nerves.  And then another.  And then another.  For someone who doesn't drink a lot of vino, she certainly made up for it during the lunch.  By the time we returned to our hotel room for another costume change before the awards ceremony, Sarah was certainly relaxed…and having a little trouble applying her lippy.  
The awards ceremony came and went; Sarah drank more wine and at 1am decided it was time to try her luck at the Casino.  Which we were promptly turned away from.  Sarah thought we would probably be safe to try getting in again after a feast at Denny's, but Martin (wisely) insisted it was time to head back to the hotel.  And boy did Sarah pay for it the next day.  As did Martin, who had to sit next to a very green Sarah who spent the whole flight home in the emergency brace position to avoid throwing up.  Good thing these awards are only once a year…seems like Sarah's not quite ready for the bright lights of the big city just yet.