Column: Bye Bye Student Loan
Publish Date

Wednesday, 15 June 2016, 8:18PM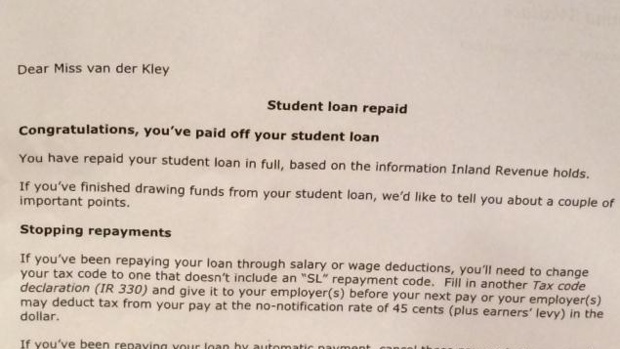 If you attended a tertiary education after you left school or continued your studies after a break, chances are you have or had a student loan.
Official figures show that more than 720,000 people in New Zealand now have student loans.  I am thrilled to say I am no longer one of those people.  
This week I received the official confirmation that I have finished paying off my student loan.  I have been waiting to receive the special letter in the mail, perhaps in a golden envelope sprinkled with glitter to appropriately celebrate the momentous occasion.  
Instead I got a notification from my online account.   It was a little deflating so I printed it out, took a picture and shared it on Facebook so all my friends could celebrate the glory with me.  Many of those friends have paid off their loans already; others still have thousands to go.  
I have worked full time since graduating and as I have taken no maternity leave or lived overseas, my repayments have been automatically removed from my pay each month with no interest incurred.  If I had needed to pay interest, I would still have another $18,000 to go.  As it was, I owed over $37,000 to the IRD for less than three years of study.  About half of that was actually spent on my course, the rest was living expenses.
I had a part time job, lived on a typical student diet of instant noodles and drank nothing more expensive than $5 bottles of Chardon.  I certainly didn't live an  extravagant life and yet, had I fully grasped the fact that I would need to pay all that money back and it would take me many years to do so, I may have opted for Budget noodles instead of splurging on Maggi.  
Martin on the other hand never had to worry about whether his choice of noodles was a little highbrow for his budget.  Back when he went to Broadcasting School the powers that be didn't require evidence of where the money you borrowed was going.  So even though Martin had saved enough to pay for his studies himself, when he discovered he could claim money for whatever he wanted, he made a call and the next day had over $5000 in his bank account.  Which he immediately spent on a car.  
Thank goodness they changed that before I started studying or I would no doubt still be paying off my loan at the age of 90.