Column: Celebrating Sporting Success....And Averageness
Publish Date

Wednesday, 25 May 2016, 6:57PM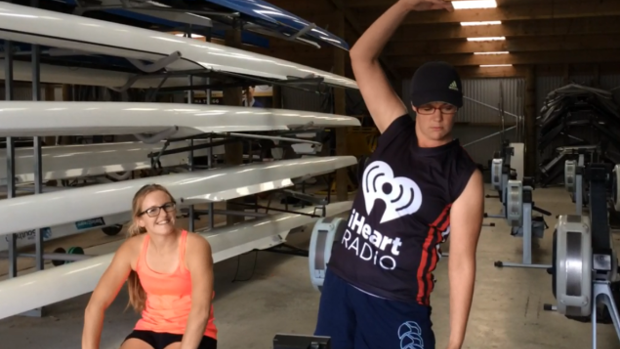 What an inspiring event the Sport Hawke's Bay Sport Awards were on Saturday night!
Inside a specially dressed up Pettigrew Green Arena hundreds of Hawke's Bay's sporting elite, supporters and sponsors donned their finest attire (apart from Martin who wore jeans) to celebrate the best of the best in the sporting world.
Nothing like reading out the litany of awards and achievements these fine folk have garnered over the years to make you feel slightly inadequate, but they didn't get there by luck. Hard work, overcoming countless obstacles and striving to be exceptional is what sets the elite apart from the average.
And when it comes to being average, I excel.
On Friday afternoon, I made good on my challenge to take on NZ Junior Women's Quad member Jess Turfrey in an erg race. I bet Jess $100 that she couldn't beat me by at least 30 seconds over 1000 metres. Not surprisingly, I lost. By 48 seconds. It almost killed me. But the worst was yet to come.
Not content with beating me on land, Jess decided I should see what it's like to row on the water. So after some persuasion, I squeezed myself into a single scull and attempted to row on the Clive River. It did not go well.
In a single scull, the only way to keep your balance is by keeping the oars flat on the surface of the water. But you have to move them off the surface if you actually want to go anywhere. Once I was the in the boat and Jess let go, off I floated down Clive River, unable to move the oars for fear of falling out.
Have you ever seen a constipated dog all hunched and tensed up trying to their business? That's what I looked like. Realising that if I didn't do something to fight the current I would end up in Pakowhai, I tentatively moved one oar very slowly and managed to do a big circle back to the shore whilst getting in the way of a bunch of poor kayakers.
And that's where my rowing career ended.
Footballs not going so well either. Midway through a very important game on Sunday (Burgerfuel Port Hill vs Indigo Port Hill) a snake jumped up out of the grass and bit my left calf, causing me to fall to the ground and roll around in agony. Obviously it wasn't actually a snake. It was cramp. But really, how embarrassing to be taken down in the middle of a game by cramp.
Safe to say the only way I'll be at next year's Sports Awards is if they ask us back to host it again. And after Martin turned up in jeans, that's looking unlikely.