Column: Sarah Throws a Tantrum
Publish Date

Tuesday, 28 April 2015, 12:17PM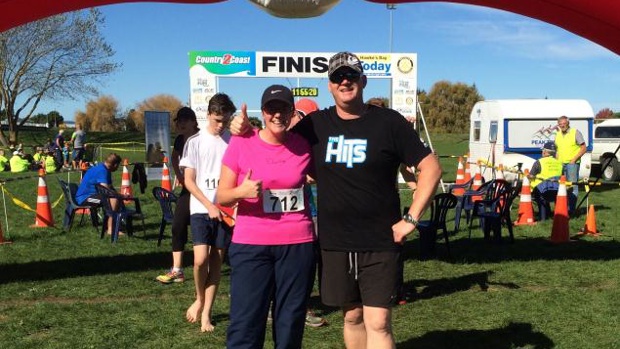 There comes a point in every adult's life when they are pushed too far. They reach their limit and there's nothing to do but throw a wobbly. For Sarah, that moment arrived during the Country2Coast.
Martin committed to walking the 15km and was a little concerned that his troublesome knee may cause him some difficulty; he even tried to persuade someone to walk beside him to piggy back him if necessary, a job for which (surprisingly) there were no takers. However, a human horse turned out to not be needed as Martin's knee held up well and he completed the walk with no major incidents. In fact, he was strolling along at a comfortable pace when Sarah dragged herself past him at about the 14km mark, huffing like a mad woman.
Sarah had been training for this run since January, but some niggling knee issues meant she wasn't quite as prepared as she would have liked. She was fine for three quarters of the course, but started to struggle just before overtaking Martin. The legs were feeling like lead, just lifting her feet felt like trying to escape from quicksand. And at the 14.7 km, Sarah stopped.
She actually stopped, right in the middle of the track and told her running partner she couldn't go on. Her running partner looked at her like she was mad and exclaimed "Don't be stupid, there's like 50 metre's to go!" Sarah wasn't buying this. She stamped her feet and argued that no, they'd stuffed up the course and they still had to go over the bridge and down the road a couple of k's to get to Farndon Park. Her running partner grabbed her wrist and tried to pull her along but Sarah's feet were firmly planted and she insisted she couldn't continue. "Fine then," said her running partner, and left her standing on the track by herself.
After a couple of seconds, Sarah realised she was acting pretty childish (and really had no choice but to finish) and somehow managed to make her feet move forward again. It was shortly after that that Sarah finally grasped that her running companion was correct; she was in fact only 50 metres from the finish line and the bridge that she was travelling under was the Clive Bridge, not the bridge by Hohepa cheese as Sarah's addled brain had concluded. So her time could have been a little better had she not thrown a tantrum, but hey, the aim was to run 15kms, and (aside from that small break) she did it!