Column: Whose Kitchen Ruled?
Publish Date

Wednesday, 4 November 2015, 4:23PM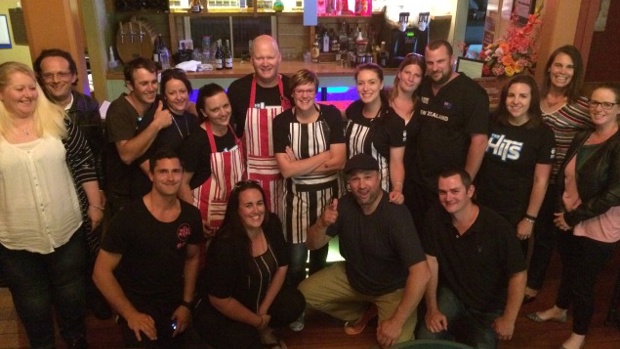 If you thought the battle between the All Blacks and Wallabies on Sunday morning was intense, you should have been in the kitchen during our Instant Restaurant on Monday!
From 4pm the Mexi Mama kitchen was a hive of activity with knives whizzing over chopping boards, food (and potentially a bit of skin) being grated and peeled and screams of "how the heck do you work this oven?!" echoing off the walls.
Henry Heke, who is representing Hawke's Bay with his wife Monique on the current season of the real My Kitchen Rules, took charge of the night as Head Chef and Chief Judge. A formidable force in the kitchen he kept us on our toes all night, reminding us to hurry up but not rush things, make sure everything is plated on time but also cooked properly and constantly yelling out how much time we had left.
It was his eyes that really frightened us though. Henry has mastered "the judge look" where they roll the food around inside their mouth while looking like they are either about to throw up or kill someone.
It was actually great to have him there and keep our guests entertained while helping us out with a couple of kitchen mishaps…like when Sarah's cheese pizza crusts melted into one giant blob, or when Sarah's cooking partner Hena over whipped the cream until it had the consistency of hardening cement. Henry swooped in and helped us fix what could have been disasters but in the end, even his expertise wasn't enough to save Team VDK.
After the judges and guests scores were tallied, Martin's team was the clear winner and took out our Instant Restaurant for 2015.
The celebrations were short lived as we quickly realised we needed to clean up. After creating three entrees, mains and desserts each for 12 people (that's 72 dishes!) we had made a heck of a mess.
Even with their industrial dishwasher the clean-up took a seriously long time, thanks in part to Sarah's oil spill all over the floor and Martin's fish encrusted frying pans.
We asked Henry if the chef's had to clean up on the TV show and he replied "No" before laughing manically and carrying on drinking.
Thanks to all our lovely guests, our helpers, Jamie and the team at Mexi Mama and of course Henry for being such a good sport. Bring on 2016!
Check out pictures from the night HERE