Dave Dobbyn A Smash...Especially For Manager
Publish Date

Wednesday, 16 December 2015, 4:35PM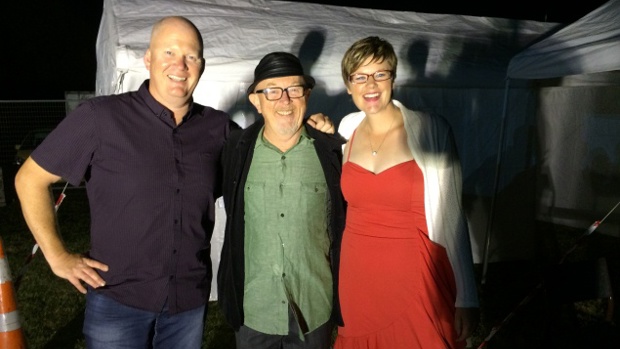 If we weren't fully in the festive spirit before the weekend, we are now!  
We had the privilege on Saturday night of hosting the Cox Partners Christmas at the Park in Napier and what a night it was!  After a brief bit of rain to cool everyone down the sun came out in full force and around 27,000 people enjoyed a magical night of amazing music and spectacular fireworks.  
Local acts including Naked Gun and Project Prima Volta nailed their performances, as did the wonderful carol singers.  
The highlight of the night had to be Dave Dobbyn who had the crowd singing along to all his classics and was joined on stage by children from a couple of Hawke's Bay Schools who will no doubt never forget their time on stage with a kiwi legend.  
Dave's manager will probably never forget her trip to Hawke's Bay either.  
During the sound check in the afternoon, the poor lady tripped over a rope backstage and suffered what is medically referred to as a FOOSH or Fall On Out Stretched Hand.  Or in this case, hands.  
Dave's lovely manager is now sporting casts on both arms after breaking BOTH her wrists!  
Putting aside the pain, it's incredibly inconvenient to break one wrist but think about how hard life will be for her with two of them broken.  
Daily tasks that we all take for granted will now be a major hassle for her.  Driving a car.  Getting dressed.  Eating with a knife and fork.  Brushing her teeth.  How on earth is the poor woman going to use the toilet??  
Big ups to her though, after a trip to the hospital she returned to Anderson Park and stayed for Dave's entire set.  She was right out front in the crowd, swaying along with the music (although we're not sure whether she was dancing or just incredibly high on pain killers).  
Everyone we've talked to agrees it was an amazing night and we want to say a big thank you to all the sponsors and the hundreds of volunteers who made it such a success.  The only question now is how are they going to top it next year?  
One thing is for sure, Dave's manager probably won't have her hands up to come back.