Publish Date

Thursday, 4 February 2016, 5:29PM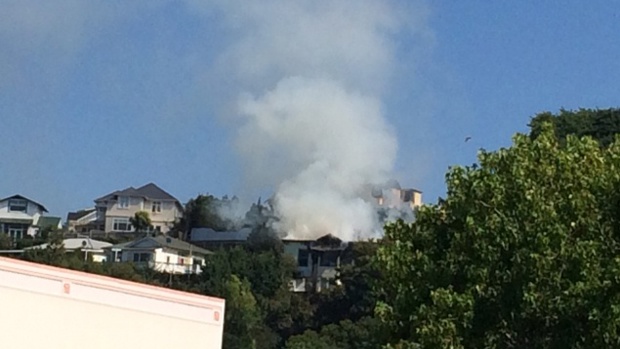 The top floor of a recently renovated 1928 wooden house in Cameron Lane on Napier Hill was this morning gutted by a fire which neighbours said spread "frighteningly" fast.
Firefighters began getting calls to the fire around 10.30am as it effectively brought traffic and pedestrians to a halt in Tennyson St below.
Flames could be seen pouring out the windows and through the roof and a huge pall of dark smoke rose into the sky.
Hundreds of people stopped and watched it unfold from below.
The top part of the house had been occupied for the past year by two young women — one with a small daughter who was at school at the time.
The two women had gone into town about 9.30am and were on their way back when they saw the smoke — then the flames.
"This is just a nightmare," one said as neighbours provided them with drinks of water and words of support.
"All the toys, all our stuff — everything," she said, asking their names not be used.
The house is owned by a Napier businessman and had been let by Tremain Rentals.  Two of the rental team arrived about an hour after the fire was reported.
The owner, who also did not want his name used, said he had just completed a major renovation.
"I've spent a lot of time and money on it and it's pretty well all gone," he said.
The bottom part of the two-storied house had been occupied by people who were out at work.  While it escaped the bulk of the flames there was clearly smoke and water damage.
Four fire appliances attended along with the hazmat command vehicle, with firefighters running about 40m of hoses from Cameron Rd down to the lane, using properties which backed on to the lane as well for hose access.
It took about 40 minutes to get the fire under control.