Not Winning Wedding Gives Baby Carter A New Life
Publish Date

Thursday, 13 August 2015, 6:43AM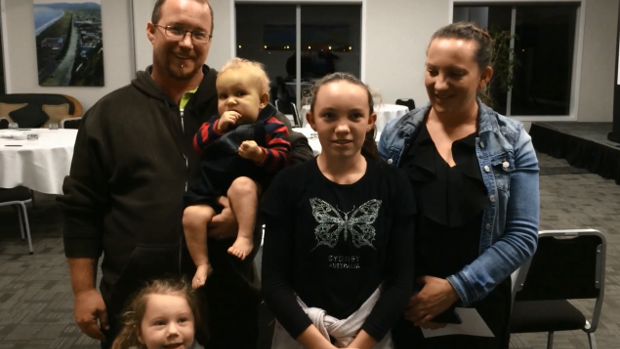 Recently, we experienced a magical day witnessing the wedding of our Married With Children winners Tamara and Clinton Jones. They are a wonderful couple and were one of five finalist families who all had an equal chance of winning the day of their dreams.
The other four finalist couples were equally deserving but there could only be one winner.
For one of our finalist families, NOT winning the competition turned out to be a blessing in disguise.
Shortly after the wedding we received this message from the sister of finalist Andrew Sim:
Dear Martin & Sarah,
In light of the amazing wedding that took place last weekend, I thought you might be interested in the weekend of one of the other finalist couples.
My brother Andrew Sim and his fiance Hazel Christie (along with their three children, Mya, Lily and Carter), were one of the four final couples in the competition. Their weekend went as follows:
At 11.15 pm on Saturday 8th August (the night of the wedding), Andrew and Hazel received a call from Starship to let them know that a liver for their one year old son Carter, who has Alagilles Syndrome, had become available. Within half an hour mum and dad had packed their bags, organised a babysitter for their daughters Mya and Lily and were on their way up to Auckland Hospital. By 9.30 am Sunday morning Carter was in surgery and ready for his new liver.
Had Mya won the competition and organised it for mum and dad, there's a high chance that they would not have been able to get up to Auckland in time for Carter to have had the surgery.
Alagilles Syndrome is a condition that affects the liver, kidneys, heart and various other organs in the body depending on its severity. Carter, who was diagnosed at just eight weeks old, has a severe case. This means that Carter suffers from liver disease, has heart and kidney problems and also has jaundice, itchy skin and trouble eating and putting on weight to the extent where he is fed through a tube while he sleeps.

The surgery appears to have gone well and Carter is currently in recovery. However, the recovery process is long and both Carter and his mum Hazel will be in Auckland for the next three months. Over this period, Andrew will remain in Napier during the week so he can continue to work and look after Mya and Lily. On the weekends, Andrew and the two girls will be travelling to and from Auckland to be with Mum and little Carter.
This means that Hazel will not be able to work for this period and, while the Auckland Hospital and Starship are amazing and have a number of processes in place to support the family, travelling to and from Auckland most weekends has many costs which will put a strain on the young family. Additionally, Carters illness has meant that the family have had to face huge lifestyle changes to improve his quality of life, including installing an HRV unit and making various household renovations to accommodate Carters poor immune system.
To combat these increased costs and loss of income, Hazels sister Heather has formed a 'Givealittle' page, highlighting Carters struggle and giving an avenue for people to support the family and donate money to make this difficult time a little easier.
We are so proud to have met this beautiful family and would encourage anyone who can to please help them through this difficult time with love and support and, if you are able, a small donation.
It just goes to show some things in life really do happen for a reason.