Jono and Ben's very responsible safe social distancing tour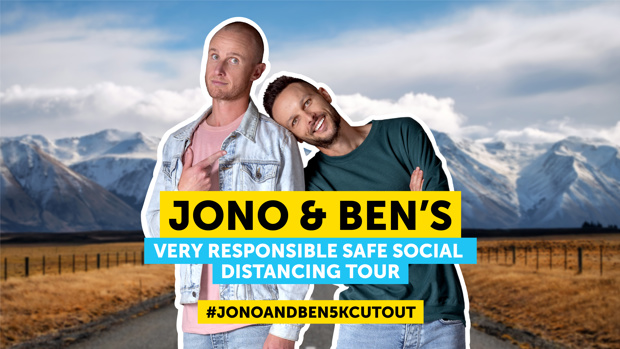 This week, Jono and Ben were meant to be hitting the road on a nationwide road trip to press the flesh and market the show!
Being socially responsible broadcasters, instead of wasting the money on flights, accommodation and fancy steak dinners, we decided to send a cardboard cut out version of Jono and Ben on the road and put the money up for grabs!
When we hit Level 1, the Jono & Ben cut out will start in Bluff. It needs to make its way back to Auckland with your help!
If it returns to Auckland successfully (without any phallic objects drawn on their faces), everybody that has posted a photo with cardboard Jono & Ben on Instagram using the hashtag #jonoandben5kcutout are in the draw to win the $5,000 CASH!

If you can help with the journey or accommodate Jono & Ben at any stage along the way contact Jono & Ben on Facebook or online at thehits.co.nz
We will set up photo opportunities along the way so you can get your photo and get in the draw to win the $5K up for grabs.
Jono & Ben's Very Responsible Safe Social Distancing Tour starts today! Click here to find out where to catch us!
#jonoandben5kcutout 
Follow Jono and Ben on Facebook and Instagram for all the latest laughs and check out their new podcast on iHeartRadio.