iPhone 6 and Apple Watch: everything you need to know!
Publish Date

Thursday, 11 September 2014, 9:20AM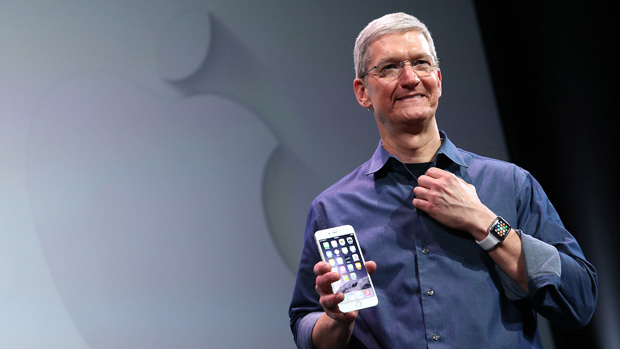 Apple has moved to recapture its role as the leading tech trend-setter as it unveiled its first smartwatch and two large-screen versions of the iPhone.
In a major product event on Tuesday, the California company also said it was introducing a new mobile wallet that will allow consumers to simply tap their phones to pay retailers, aiming to popularise the idea of mobile payments.

The Apple Watch, a sleekly designed wrist device that links to the iPhone, "will redefine what people expect from this category", chief executive Tim Cook said in Apple's hometown of Cupertino.

"It is the next chapter in Apple's story."
Also unveiled were the iPhone 6 and iPhone 6 Plus, in a large boost to the screen size of the popular handsets.
Apple's main rival Samsung has long had a range of larger handsets and has tried to market a smartwatch of its own.
The iPhone 6 will have a screen of 4.7 inches and the 6-Plus will be 5.5 inches, allowing Apple to adapt to consumers' apparent preference for bigger displays.

Cook said the new handsets represented "the biggest advancement in the history of iPhones".
Apple senior vice president Phil Schiller the new iPhones were "simply stunning" with polarised glass displays and bodies that are "thinner than ever before".
"These are the best phones ever made," Schiller said, as he described the new devices at a major set-piece event streamed live online.
The new iPhone 6 will start at the same price of existing iPhones at $US199 for US customers while the iPhone 6 Plus will be at $US299 with a two-year contract.
In New Zealand, the iPhone 6 will start at $999 outright for the 16GB model and goes up to $1,299 for the 128GB model, while the iPhone 6 Plus will cost $1,149 for 16GB up to $1,449 for 128GB.
Apple's New Zealand website states the new models will be available to order on September 26
Schiller said the devices would be available in at least 115 countries by the end of the year.
With the new launch, Apple will cut the price of existing iPhone 5S and 5C with the launch.
Apple's move, expanding the latest iPhone with a four-inch screen, comes as consumers are switching to handsets with bigger displays to watch videos and browse the internet.
Cook said the ApplePay system would replace an "antiquated payment process" with "an entirely new payment system" that allows consumers to touch their phones to retail terminals.
The new payment system will be built into the new iPhones and the upgraded Apple's operating system called iOS 8.

Apple iPhone 6
4.7 inch 'Retina HD' display
1334 x 750px screen resolution, 326ppi
A8 chip with 64-bit architecture
8 megapixel camera, 1.2 megapixel front-facing camera
Battery up to 10 days standby, 14 hours talk time on 3G, 10 hours mobile internet browsing or 11 hours WiFi browsing
Available for order on September 26 (NZ)
Apple iPhone 6 Plus
5.5 inch 'Retina HD' display
1920 x 1080px screen resolution, 401ppi
A8 chip with 64-bit architecture
8 megapixel camera, 1.2 megapixel front-facing camera
Battery up to 16 days standby, 24 hours talk time on 3G, 12 hours mobile internet browsing or 12 hours WiFi browsing
Available for order on September 26 (NZ)