Kids Sing Up A Storm For Toy Run
Publish Date

Thursday, 19 November 2015, 7:29PM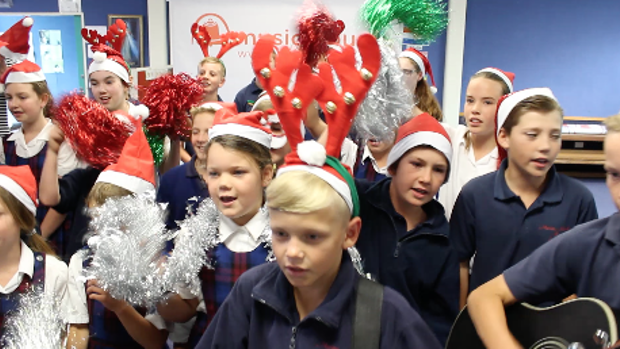 This year's The Hits Toy Run is just around the corner, and to mark its third year, local musicians have come up with a catchy theme song that epitomises the concept behind the event.
Joe McNamara and Sam Trenwith wrote and composed Share the Love after a conversation with The Hits Waikato announcer Blair Dowling about the event that sees Waikato residents donate toys to give to children who would otherwise go without at Christmas.
The Toy Run first ran in 2013 and each passing year has seen more toys donated. Last year 2000 toys were donated and this year looks set to be even bigger.
Joe and Sam say they left their chat with Blair feeling inspired. Sam sat down and wrote Share the Love in a matter of minutes before fine tuning it.
"The Toy Run isn't just about giving a child a toy; it's bigger than that," said Blair.
"That's why we called the song Share the Love because it's not just 'give your toys away'," said Sam.
"There's kind of no love in that really but if people can see that giving a toy is giving a bit of love to that person that's special."
On Monday, Blair, Joe and Sam got a group of Marian School students together to shoot a fun video to accompany the song, both of which will be used to promote the event online and on air.
"Marian has an affiliation to the Catholic Church and St Vincent de Paul," said Sam. "We got some of the Marian kids I teach to jump in and sing along and play instruments to the song to create a video. But we also imparted what the Toy Run is about to them."
Blair describes Joe and Sam as part of Hamilton's music royalty, and they each have a lengthy background in music.
Sam is from the deeply musical Trenwith family and was nominated for a Silver Scroll award in 2008.
Joe has been making a living out of music since about 2000 in various capacities, including several years touring the country as one of the popular children's troupe Funky Monkeys and latterly as a tutor at Hamilton's Vision College.
A year ago the pair set up Music House which offers music lessons.
"Sam and I have known each other for yonks; we go to the same church and hang out," said Joe. "We talked about how we should get together and merge our businesses because we have similar values and synergies when it comes to what we see as being important with nurturing kids and creativity. And Music House is really about that. Sam and I are working hard to try to create an avenue for kids to be creative."
"One of my passions is to give my own kids the gift of music," said Sam. "I feel like my own life has been so blessed with the gift of music from my parents ... not only my own kids, but I love seeing kids grow in music and to see them fall in love with playing music. It's this cool thing they will have all the way through their life."
The Hits Toy Run will run for longer this year, incorporating two weekends. Blair will be broadcasting his daytime show all week from the Toy Run bus that will be touring the region collecting toys.
Listen to The Hits 98.6 for all the key details about pick up and drop off locations. Details will also be online at www.facebook.com/WaikatoTheHitsalong with the Share the Love video and in Hamilton News over the coming weeks.
The Hits Toy Run will run from Saturday, December 5 until Sunday, December 13. Following that, all the toys will be delivered to St Vincent de Paul's headquarters in Frankton where an army of volunteers will sort them and help distribute them.