Reports Of Flare Before Mt Maunganui Blaze
Publish Date

Thursday, 14 January 2016, 9:19AM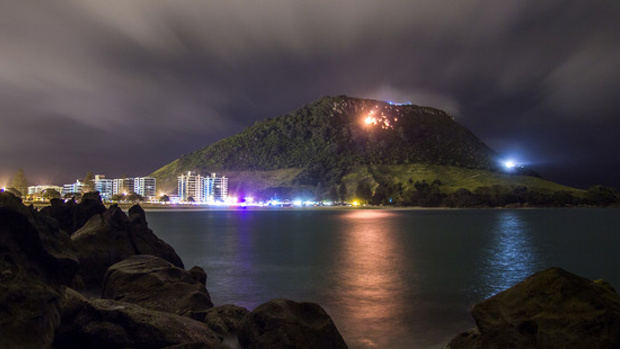 Three people had to be rescued from Mauao overnight as fire, possibly started by a flare, took hold of Mount Maunganui.
New Zealand fire service assistant area commander Aaron Waterrous has confirmed reports of a flare sighted at Mauao just before the fire began.
Mr Waterrous said when firefighters arrived, there were three people on the Mount.
Firefighters prioritised getting those people down from Mauao. Once they were successful they were then able to focus on the blaze.
Mr Watterrous would not comment further on the people.
Mount Maunganui has been closed until further notice.
Tauranga City Council communications manager Aimee Driscoll said no one had been harmed in the "medium-sized" fire and there was no current risk to campers.
The fire has been contained but is not completely out with two helicopters with monsoon buckets dousing the fire, with a third on standby.
Tauranga City Council acting manager parks and recreation Warren Aitken said they hoped the fire would be out by this morning, with a number of hours after to dampen it down.
"Once the fire is fully extinguished we will need to assess the stability of the rocks to ensure they are safe before we open the area up to the public.
"We have cordoned-off the area, closed road access and have security onsite. Can we please ask people, for their own safety, to stay way from the area until further notice," Mr Aitken said.
Each of the helicopters is able to carry 600 litres of water and alternatively each one is dropping massive buckets of water on the Mount every 60-90 seconds.
By 8am the helicopters have already dropped 53 buckets containing 600 litres of water.
The 800-900 square metre patch on the Mount is still smoking but Mr Waterrous said the helicopters would work for another hour before ground crews would get onto the Mount to tackle the fire by foot.
The fire broke out just before midnight and has been burning since.
So far it has destroyed vegetation on the northern side of the landmark Bay of Plenty mountain.
Mr Waterreus described tackling the mountain-top blaze as extremely dangerous and posing difficulties for firefighters.
"It's quite steep terrain up all sides of the mountain so we have to be very careful.
"It's obviously dangerous, night-time, steep ground and it's on fire. It's a very dangerous situation and we have to be careful."
He said the size of the fire and flames were quite impressive.
Thanks to favourable conditions the fire had been contained to a relatively small area.
 It was hoped the fire would be out by early afternoon.
The fire service would be conducting a full investigation to determine the cause of the blaze.
In recent weeks, there has been a spate of arson attacks in the Tauranga and wider Bay of Plenty region, with several schools being targeted.
Last month saw the fire service attend to fires at three schools, including Merivale Primary School and Arataki School.
Radio New Zealand reported that an eyewitness had told police they saw what appeared to be either a lantern or a firework fall onto the Mount.
Fire Service northern shift manager Scott Osmond said around eight fire crews were battling the fire.
"In that area it's very steep country and it's simply inaccessible. All we can do is try and contain it without it spreading too much," he said.
Jody McGinity, who is camping at Papamoa, said last night the fire could be seen from the campground, about 16km away from Mt Maunganui.
"We were just sitting having a drink and then we wondered what the light was," she said.
They then realised it was a blaze, and called the Fire Service.
The large scrub fire in Mt Maunganui continues to burn. Photo / Mount Maunganui Twitter
The large scrub fire in Mt Maunganui continues to burn. Photo / Mount Maunganui Twitter
"It's spread about half way down the right hand side [of the Mount]," Ms McGinity said.
The large fire was spreading quickly, because of a strong breeze.
"It looks really bright."
Hamilton holidaymaker Jody McGinity, who is staying at a nearby campsite, said the mountain was looking ominous at daybreak.
"It looks dark on the top of the mountain this morning," she said.