BREAKING NEWS: Plane Crash Into Lake Taupo
Publish Date

Wednesday, 7 January 2015, 12:50PM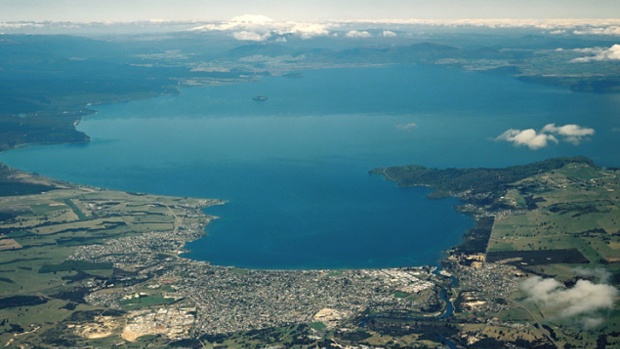 1.17pm...FROM POLICE:  Thirteen people on board a light aircraft which has crashed into Lake Taupo are all safe and sound.
Police received reports of the crash at approximately 12.15 this afternoon.
All those on board are now shore and being checked out by ambulance, but it is believed at this stage that there are no injuries.
CAA has been notified and police will assist as required with any air investigation.
-----------
1.12pm...It's not yet known how many people were onboard, or what caused the plane to dive into the water.
NZME reports a woman from Waitahanui Lodge says she saw the plane go into the lake, but couldn't see anything more.
The woman heard sirens heading to the scene of the crash.
Robbie Graham of the Wildwood Gallery saw around 12 skydivers leaping towards the lake.
"I could see one of them might've made it to some land, but the rest of them looked like they were going to go straight into the lake."
---------
1.03pm ...A NZME. reporter at the scene said Skydivers bailed out of a stalled skydiving plane about 400 metres above Lake Taupo in the seconds left before it plunged nose-first into the water this morning.
A witness to the crash, who watched from only a few hundred metres away, said about six skydivers bailed out during the midday accident.
"Their parachutes opened. Then (the pilot) nosedived into the lake. I don't know if he got out."
---------
1.02pm...It's believed all those onboard a light plane which has crashed into Lake Taupo have escaped unscathed.
Newstalk ZB understands the group were on a trip with Skydive Taupo.
----------
A light plane has crashed into Lake Taupo.
Police have reportedly rushed to the scene.
The Lake Taupo Harbourmaster has so far declined to comment.
More to come soon.
----------
Emergency services are on their way to a plane that has crashed into Lake Taupo.
The plane has reportedly crashed south of Waitahanui township.
A woman from Waitahanui Lodge said she saw the plane go into the lake, but couldn't see anything more.
"I can't see anything other than boats. It went into the lake."
Police are unable to be reached.
She said she could hear sirens on their way.
----------
Reports state 3 Fire Trucks, 8 Police Cars, and an ambulance attending.
Sources: Newstalk ZB, Rotorua Daily Post, The Hits Taupo