Familiar Faces in 2016 Kia Magic Squad
Publish Date

Tuesday, 7 July 2015, 11:21AM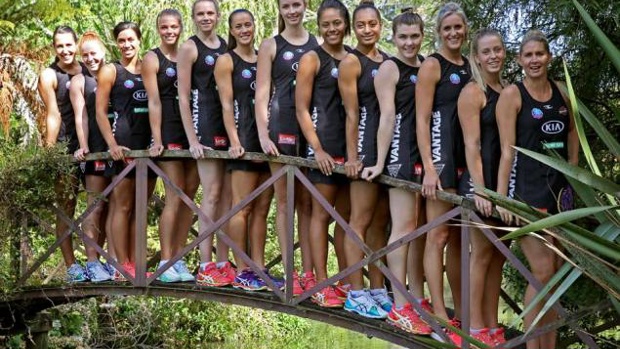 The only difference sees defender Jo Trip heading on an OE.  All the rest of this year's squad, which featured 13 players due to Casey Kopua's injury rehabilitation, will be back in 2016.
There is a particularly strong look to the 2016 Kia Magic. Nine of the squad were named in Netball World Cup, Under 21 or National A squads in recent days, not to mention Courtney Tairi, who was aiming to push for World Cup selection and add to her Silver Ferns caps before rupturing her Achilles tendon in round one this season.
"As a long-time coach you know the occasions when you have a special bunch, and we have that here, so it's fantastic to keep this magic group of players together," said Kia Magic coach Julie Fitzgerald.
Dynamic defensive duo Casey Kopua and Leana de Bruin will both be back, ending speculation about their futures.
"I still love the game, love our team and know I still have plenty to contribute to our 2016 campaign," said 2015 Kia Magic Co-Captain and season MVP Leana de Bruin. "As on court captain this season I also learnt a lot and with such a great coach in Julie Fitzgerald I'm still growing my game, so why stop now?"
After working so hard to rehabilitate from her knee injury this year, Casey Kopua also can't wait for 2016. "I want to be involved again because I know we've got the potential to go all the way and I'm really excited by the development of our squad this season and where we're capable of getting to in the future," said Casey Kopua.
Fellow senior player Courtney Tairi is looking forward to getting back on court next year and the challenge of a hotly contested midcourt in 2016. "We have a great close-knit team, our middies are nice and strong and it can only make us stronger and better if we're all pushing each other because we know we'll all be fighting for those positions, but also backing each other as well," said Courtney Tairi.
Expressing delight in getting this year's squad to put pen to paper for 2016 is Netball Waikato Bay of Plenty CEO, Tim Hamilton. "The sense of family is so strong with this group and it's great that they'll be back to continue working towards our lofty goals as a franchise." "It's testament to the coaching and management staff and the Kia Magic culture that we've been able to retain this year's squad, especially with other New Zealand teams vocal in their desire to recruit talent."
The 2016 Kia Magic squad is: • Aisha Bower • Leana de Bruin • Ellen Halpenny • Jo Harten • Kelly Jury • Casey Kopua • Kristiana Manu'a • Malia Paseka • Jamie-Lee Price • Grace Rasmussen • Sam Sinclair • Courtney Tairi