NEWS: Reunited After Two Years
Publish Date

Thursday, 14 January 2016, 11:24AM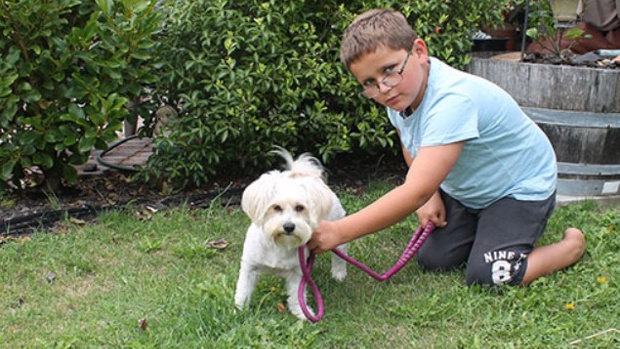 The value of microchipping cannot be underestimated.
This is the sentiment of Ella Martelli, who has just been reunited with missing pet Peaches, a Maltese bichon frise cross thanks to microchipping.
"Without it, she'd never have been found," Ms Martelli said. "It's just a gift – without that, this reunited family would never have happened. I can't stress the importance of it enough."
Ms Martelli's story begins two years ago, when Peaches disappeared from her front deck. She lives at the Taupo property with her grandson Angelo, and the dog was the nine-year-old's best buddy.
After a lengthy search and campaign to find Peaches and bring her home, Ms Martelli and Angelo gave up hope. "You get to a point where to help with the healing you've got to stop and resign yourself to the fact that maybe she's not coming home," she said.
And then, earlier this month, Peaches turned up in Hamilton – some 160km away from home. She was found wandering down a road and her microchip scanned when she was picked up, revealing the owner.
"I had to pinch myself – after two years I just seemed so surreal," Ms Martelli said. "I couldn't believe it until I saw her."
Since Peaches went missing, Angelo has been given another pet – shih tzu Emily Rose, "to help with some of the heartache". Now Emily Rose and Peaches are great friends. "They're two tearaways," Ms Martelli said. "The girls are such an important part of the family."
Consents and regulatory manager Scott Devonport said not only was it a legal requirement to have dogs aged over three months microchipped, but this case proved it was incredibly important.
"We love a happy ending for our missing dog owners, but this type of thing can only happen if dogs are microchipped," he said. "We can do it at the Taupo pound or your local vet can do it for a small fee."
You can get your dog microchipped for the discounted rate of $10 at the pound open day on January 23. The event will be at the pound at 1/131 Centennial Drive (Owen Delany Park) from 11am to 3pm.