Rotorua Updates - Covid 19 Second Wave
Publish Date

Wednesday, 12 August 2020, 11:54AM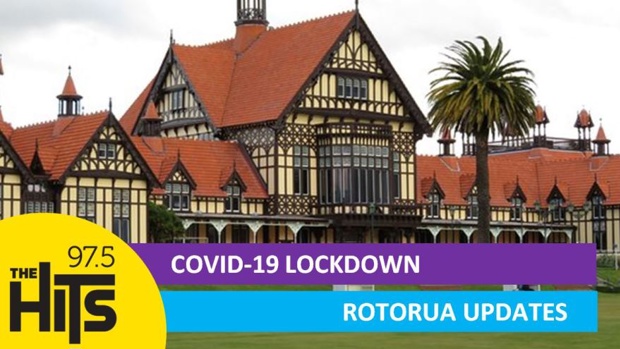 Updates on this page as and when they become available to us...
---
List of known Rotorua locations visited (updated 2.35 Th13/8):
• Wai Ora Lakeside Hotel on Saturday August 8 from 3.30pm until Tuesday August 11 at 9am.
• Herbs & Spices Thai Restaurant on Saturday August 8 from 8pm to 9pm.
• The Fat Dog cafe on Sunday, August 9 between 1.30pm and 2.30pm.
• Pak'nSave Rotorua on Sunday August 9 from 2.30pm to 3pm.
• Skyline Rotorua on Sunday August 9 from 4pm to 5:50pm.
• Made a day trip down to Taupō for a sailing trip from 8am.
• Don Kebab on Monday August 10 from 7pm to 7:30pm.
• Burger Fuel Redwoods on August 10 between 7pm and 8pm.
---
Fri 1.30pm... no positive cases to report in Rotorua, but 13 new in total including two in Tokoroa, which does have many commuters to and from Rotorua.  A reminder to only visit CBAC testing centres if you are showing symptoms. This helps ease the strain on these facilities. 
ALSO, a Pasifika pop-up testing site will the Rotorua Energy Events Centre (EEC) starting at 1.30pm today.
• This is a proactive measure due to the close relationship between the Tokoroa and Rotorua communities and to check for COVID
• Testing starts at 1.30pm at the EEC so please follow signage and staff will direct you
• Please stay in your car and go to the toilet before they come in case there are waiting times. Bring water or snacks too in case
• Do not worry if they are not NZ citizens or are here temporarily
• There will be translators in Samoan, Tongan, Fijian and Cook Island Maori on hand to support them
Thu 1.10pm... two new Rotorua locations have now been added to the visit list.  Herbs & Spices Thai Restaurant at 8pm on Saturday night, and also Pak n Save Supermarket on Sunday afternoon around 2.30.
There were over 6,000 test processed yesterday, with 13 new confirmed cases in the community, and all are in Auckland.


Thu 8.00am... Burger Fuel Redwoods was visited by the family on Monday night between 7 & 8.  testing sites open today at 2 Vaughan Rd (just round corner from Mobil Te Ngae) open 9am – 4pm every day.  PLUS a new pop-up test site opens today at the Rotorua International Stadium, open from 9am to 4pm from Today to Sunday.
Wed 19.30pm... Fat Dog Cafe have confirmed they visited the cafe on Sunday afternoon between 1.30 & 2.20pm 
Wed 16.10pm... listen below to Dr Ashley Bloomfield's information about the visitors to Rotorua.
Major points...
they visited from Sat 8th - Tuesday 11th
stayed at Wai Ora Hotel
visited Skyline on Sunday 9th from 4pm till 6pm
Visited Heritage Farm and 3D Gallery on Monday 10th between 3pm and 4pm
also visited a number of eateries, these are still yet to be confirmed and identified
nobody local is considered a 'close contact'


Wed 13.00pm... the cities CBAC centre on Vaughan Rd is extremely busy today.  Expect delays.  A second pop-up centre will be opened tomorrow at a yet to be announced location.
Wed 11.15am... the visitors were in town doing tourist activities.  Where and when they visited is under investigation and to be announced as soon as possible.
This from the NZ Herald... 
Two of the new Covid cases travelled to Rotorua while showing virus symptoms and visited tourism spots.
The Ministry of Health is working to establish where they visited in Rotorua.
People in Rotorua would need to be vigilant, director general of health Ashley Bloomfield said.
If there is another case in Rotorua, a nationwide response will be necessary.
The woman, in her 20s, travelled out of Auckland last weekend. The woman and two young children visited tourist attractions, Bloomfield said.
"I know that the virus re-emerging in our community has caused alarm and the unknown is scary. That causes anxiety for many of us," Bloomfield said.
"We are working hard to put together the pieces of the puzzle as to how this family got the virus. We are testing all close and casual contacts," he said.
Once authorities found about the positive test, both the case and the family were contacted and isolated at home and all were tested. The trip to Rotorua took place last weekend. The woman and one of the pre-schoolers had tested positive, Bloomfield said.
"The family visited a number of tourist venues while in Rotorua," he said.
There is no lockdown in Rotorua because everything at this stage points to the source of infection being in Auckland, Ardern says.
Covid would continue to exist within the world for the foreseeable future, Ardern said, and other countries had navigated elections in a Covid world.
Wed 10.45am... revealed that two of the Auckland confirmed cases visited Rotorua last weekend.
Tues 9.15pm... annoucement that Rotorua will return to Covid-19 Alert Level 2 from midday Wednesday