Taupo Local Heroes The Toast Of Town
Publish Date

Tuesday, 8 December 2015, 1:18PM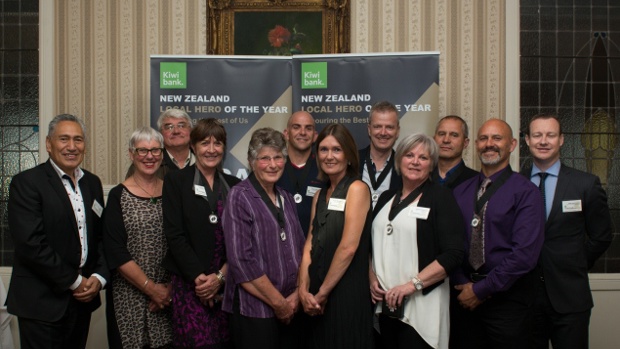 Residents of Taupo were among a number of people honoured as "local heroes" at a special awards ceremony held last night (Mon 7 Dec) at a function in Rotorua.
As part of the 2016 New Zealander of the Year Awards, the 12 Kiwibank Local Heroes were presented with specially made medals to officially recognise their achievements.
Rotorua Mayor Steve Chadwick was on hand to present the medals and congratulate the recipients on their awards.
"The people we are honouring tonight, who have given their time and expertise so selflessly to others, are our community treasures. While most would agree that community service contributes significantly towards the health of their community, the reality is that it takes passion and commitment to keep delivering year after year.
"I think that it is interesting how many times you hear people who do contribute so much saying that what they get back is worth so much more. This I guess is what it is all about.  We recognise these extraordinary people as our local heroes" she said.
The recipients of the Kiwibank Local Hero Awards for Taupo are:
Geoff Rameka (Taupo) --- Geoff or 'Matua Snow' as he is known, is a very influential person in the Taupo region.  A teacher at Taupo Nui A Tia College, Matua Snow is passionate about Maori culture. He teaches Te Reo Maori, social studies and Maori performing arts to Year Nine-13 students.  He volunteers countless hours to the local school's Kapa Haka group Te Awhiorangi, which started more than five years ago.  Matua Snow encouraged the group to enter the New Zealand Kapa Haka festival and in 2013, he helped raise over $10,000 to take the Te Awhiorangi group to Hawaii for a competition.  Through Geoff's hard work and tireless hours of tutoring the group returned with 10 trophies including first place.  The Taupo community is very lucky to have someone so committed to helping youth succeed in their educations.
Craig Ladbrook (Taupo) --- The Ladbrook family have been in the Taupo region for more than 55 years and Craig has taken a key role in instigating community DIY projects.  In 2013 Craig and his wife upgraded their Mitre 10 store to a Mitre 10 Mega, boosting their staff numbers to more than 70.  As one of Taupo's leading businesses they are committed to helping the community trough contributing to local clubs and organisations.  Craig donates prizes and also a community barbecue to help with fundraising in the region.  Through Mitre 10 Mega, Craig fundraised and donated supplies for renovations to the Lake Taupo Hospice.  Most recently, Craig has partnered with 100% Lake Taupo Charitable Trust in a 'Mitre 10 MEGA Community Reno' weekend. 
Jeannie Short (Taupo) --- Jeannie has been volunteering in the Taupo community for a number of years now.  This included initiating a clothing bank for those in need. Jeannie collects donated children's clothing items, washes them and packages them to look almost new. She then gives them to kids, local schools or community groups.  Jeannie provides breakfast for kids at Mountview Primary School and also works with the local council to represent the Tauhara area.  She has run local white ribbon days, community fun days for kids and families and has spent the last three years planning and organising a park for the area.  Jeannie also runs beautification projects in the area, gathering youth and community members to clean up and make public spaces nicer and more family friendly.