Taupo March For Rescue Chopper
Publish Date

Friday, 20 April 2018, 3:03PM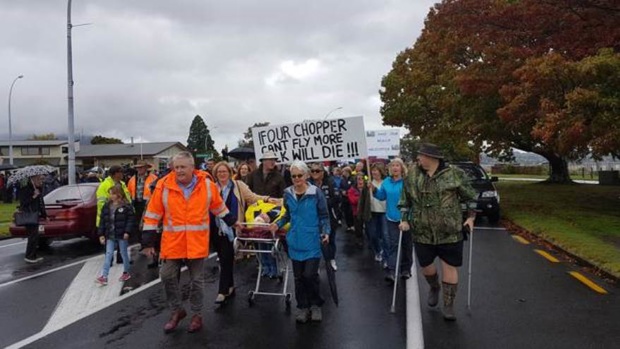 Taupo MP Louise Upston says anyone who has been in a desperate situation trying to save a life and has heard the sound of an approaching helicopter knows the feeling of relief it brings.
Upston recounted her own personal experience of Taupo's Greenlea rescue helicopter at a protest march in the town earlier today, which attracted 1200 people of all ages.
They marched approximately a kilometre along the lakefront from the Taupo Fire Station, completing the last 200 metres or so in heavy rain before reaching the Great Lake Centre and gathering inside for speeches.
Local MP Upston was on a ride-along with Turangi police in 2009 when they received a 111 call that somebody had been shot in the Kaimanawa Forest Park. They raced out to the scene.
Upston found herself helping police try to save the life of a badly injured woman.
"I remember doing CPR, feeling incredibly desperate until I heard the sound of the chopper," she told the crowd.
"If any of you have heard that sound coming through at a time of desperate need, you'll know what it makes you feel.
"That's why when I was contacted by the rescue helicopter service before Easter and told with no warning that this service was likely to be cut, I thought that was absolutely ridiculous, absolutely outrageous and [mayor] David Trewavas and I decided we would fight tooth and nail any decision that cuts chopper services here."
The protest came two weeks after news broke that the National Ambulance Sector Office had excluded Taupo and Rotorua from the list of helicopter bases where it is asking for proposals for service.
Trewavas told the people who gathered after the march that the depth of feeling in the community was being noticed, and he would be meeting the ministers next Monday in Wellington to discuss the rescue helicopter proposal.
"We are battling on and we are going to fight this thing all the way. It's just so, so important."
Waiariki MP Tamati Coffey, who was not present at the march, but wrote a letter that was read out by former Labour candidate Ala' Al-Bustanji, said he would be talking with local mayors ahead of a meeting with the Health Minister next week in Wellington and would take the community's message from the march right to the minister and his officials.
"We will go in and bat for you. You will be heard. Wish us luck. Kia kaha, kia maia," he wrote.
Two locals who had been transported by the Greenlea rescue helicopter also spoke.
Julia Prest, accompanied by her daughter, Lillyann Stockley, 5, said the helicopter whisked her to hospital when she went into premature labour at 27 weeks pregnant and began haemorrhaging.
"If it wasn't for the Greenlea rescue helicopter I wouldn't be here today. I owe my life to the helicopter and so does my daughter," she said.
The protest was organised by Taupo woman Jan-Marie Quinn and Trewavas made special acknowledgement of the effort she had gone to to make the community's voice heard.
--------------------------------------
Source: Taupo & Turangi Weekender/Rotorua Daily Post
Photo: Laurilee McMichael