Stace Opens Up About Her Experience With A Clairvoyant "My Mum's Spirit Was With Me"
Publish Date

Monday, 15 February 2016, 11:53AM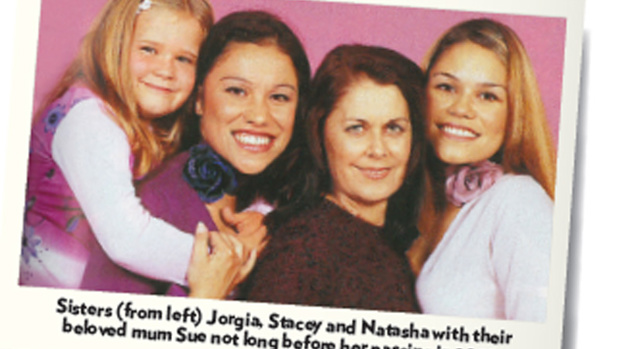 Stace featured in the latest Woman's Day magazine last week, where she opened up about her experience with a clairvoyant. 

Here is what the text in the article says:
"Just a few weeks ago,
The Hits radio star Stacey
Morrison was caught
sniffling uncontrollably in
front of her computer by
her co-host Paul "Flynny" Flynn.
"He was looking a bit concerned,"
laughs Stacey, "and I had to confess
I was watching a video featuring this
amazing medium. He was telling
a woman that her mother knew she
was holding her hand when she
passed. She just burst into tears and
said, 'I always wondered if she knew.'"
The clip struck Stacey on many
levels. Her own mum Sue had died
in 2002, when Stacey was 27, and
the beloved broadcaster also had
questions about what her mother
experienced as she passed away.
As well, there was something so
kind, gentle and warm about the
psychic, Tyler Henry, a 20-year-old
with the cherubic looks of a young
Macaulay Culkin. He's been bringing
celebrities from the Kardashians
to Boy George to tears over his
spookily accurate conversations
with their late loved ones on his
new E! show Hollywood Medium.
So when, a few weeks later, the
42-year-old mum-of-three
discovered she was the only Kiwi
media personality chosen for
a one-on-one reading with Tyler
during his flying visit to New
Zealand to promote the series,
she could hardly believe her luck.
On Thursday last week, Stacey
walked into a private room at
an upmarket Auckland hotel
with butterflies in her stomach,
knowing she was "about to have
the kind of conversation you
don't have every day".
Before they met, Tyler – who
discovered he was clairvoyant at
age 10 when he predicted his
grandmother's passing – knew
nothing other than her first name.
Stacey, meanwhile, had been
briefed to bring with her an item
belonging to the person she
hoped he'd channel. She chose
a beautiful diamond ring that
belonged to her mother.
Within moments of their
meeting, Tyler was telling Stacey
details from her life that took
her breath away, saying, "I've
been seeing white feathers since
yesterday." Stacey explains, "That's
my sister Tash's thing. She always
tells her kids, 'Whenever you see
white feathers, that's your nana.'"
Then Tyler told her, "I can see
a candle and white flowers." Says,
Stacey, "Special details like that
really tell you it's real." Each year,
on the anniversary of their mum's
passing, Stacey and her sisters,
Natasha, 40, and Jorgia, 21, who
was just seven when her mother
died, light a candle and put out
her favourite Iceberg roses.
As Tyler focused on receiving
messages, sometimes scribbling
on a piece of paper, he continued
to astonish Stacey with details
too specific to be lucky guesses.
He said he could feel a pain
in his chest and two "connected
women" who had both died of
cancer came through. Stacey's
mum and her grandmother Joyce
died of breast cancer.
Stacey's mother had three
children, he went on, asking, "But
why am I seeing the numbers
two and then one?" Stacey and
Natasha were from Sue's first
marriage and Jorgia was from
her second. Stacey laughed when
Tyler noted Sue stressed she loved
her children equally. He said, "She
wants you to know there are no
favourites and she is really proud
of all of you." Stacey insists that
was extremely important to her
mum. "She didn't want anyone
to feel they were less loved."
"After your mum passed, there
was a wedding," Tyler stated. "She
was there – and she loved it!" It
was confirmation of something
Stacey had always felt. She sensed
her mum's presence intensely
on the morning of her wedding,
four years after Sue had passed
away with her heartbroken family
by her side.
"She woke me up," recalls
Stacey, tears pricking her eyes as
she talks to Woman's Day. "I felt
like I was being lifted off the bed.
I just knew it was her. I gasped as
I woke and said, 'Mum!' It wasn't
sad. It was just lovely. Then I
opened the curtains and it was
a stunningly beautiful day. It just
felt like she was saying, 'There
you go – have an amazing day.'
The whole day was just golden."
Stacey was trying hard not
to dissolve into tears during her
reading, but she lost the battle
when Tyler added something she
had fretted about for 14 years.
He told her, "She wants you to
know that she wasn't in any pain
when she passed." Stacey says,
"Honestly, that was so important
to me. She'd been through so
much pain."
'I just lost it'
Tyler continued, "She wants you
to know that the last thing she
thought about before she passed
was her children."
"I just lost it," Stacey confesses.
"It was the stupidest thing – how
did I possibly come into a reading
like this without some tissues?
Luckily, Tyler had some."
But he was by no means
finished. Stacey, who is married
to Te Karere presenter Scotty
and is a proud mum to their son
Hawaiki, nine, and daughters
Kurawaka, seven, and Maiana,
three, suffered a miscarriage in
2010. Tyler knew about that too.
"I felt such terrible grief after
the miscarriage," reveals Stacey,
"and I didn't know that I would.
The first thing I thought was, 'I
don't think I've been a very good
friend to other people who have
had miscarriages.' My baby was
only nine weeks, but my grief
felt the same as when Mum died.
The one thing that comforted
me was the knowledge that the
baby would be with her – and
Tyler confirmed that it was."
"Your mum is proud of you
and she's always with you," Tyler
said. "She's not sad that she died.
She's happy with her life."
Wiping away tears, Stacey tells,
"I wanted to hear that because
she was only 45, which wasn't
very long to live. Now that I'm
a mother, I know it would have
been so hard for her to leave us."
Her encounter with the young
medium has convinced Stacey
that while many clairvoyants are
con artists, others, like Tyler, are
the real deal. Proud of her Maori
heritage, the host of TV One's
Whanau Living gave him a piece
of pounamu. "I explained it is
our greatest treasure and told
him that it had been specifically
blessed for him," says Stacey.
He replied, "That's the sweetest
thing. I think I'm going to cry."
Stacey concludes, "When it
comes to clairvoyants, I certainly
wouldn't go to just anyone, but
I think Tyler's someone who's
blessed with a gift. He's not what
you expect from Hollywood.
He's low-maintenance, low-key
– a really nice man. He made
me cry, but he didn't make me
sad. It was actually just really
beautiful.""