Why are New Zealand avocados $6.99 here and only $1.50 in Aussie?
Publish Date

Thursday, 17 May 2018, 11:00AM
Is the price of avocados here in New Zealand getting you down at the moment?
You may not want to read on.
A Facebook post has revealed while us Kiwis are balking at the cost, Aussies are snapping up the millennial-favourite for a fraction of the price.
In what this avocado-fanning writer believes to be the biggest trans-Tasman scandal since the underarm bowling incident of 1981, Australians can buy our Kiwi avocados for $1.50, while here at home we're paying $6.99 for the good-fats privilege.
In a post on Sarah, Sam and Toni, The Hits page, a side-by-side supermarket comparison showcase the whopping price difference between the fruits, both of which are from New Zealand.
Reactions on Facebook showed clear outrage from Kiwis over what appears to be daylight supermarket robbery.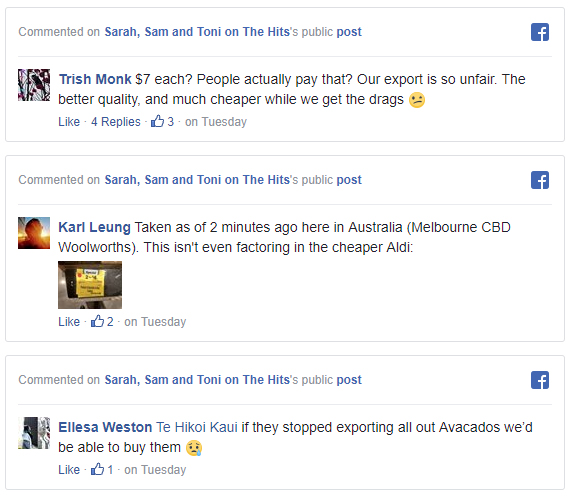 Some Aussies even chimed in, trying to lure Kiwis across the ditch with the promise of greener, cheaper pastures.

So how did this price disparity come about? According to the Mike Swan, marketing manager at avocado company Southern Produce, there's a very good reason for the vast price difference.
"The important thing to clarify in the first instance is that the avocados showing in the photo have been piked, and that's clearly an avocado that's been produced outside of New Zealand," Swan stated.
"We have strict export protocols, meaning the stem end needs to be present in the avocado. So I think there's probably a mislabelling happening on your supermarket shelf in Australia."
Swan also added that the avocados currently available in New Zealand are fruit that has been held later in the season, a risk taken by some growers in order to "supply what is traditionally a much higher value market place".
This article was first published on NZ Herald and is republished here with permission.