Jono & Ben's Iso-Luncheon midday special is here!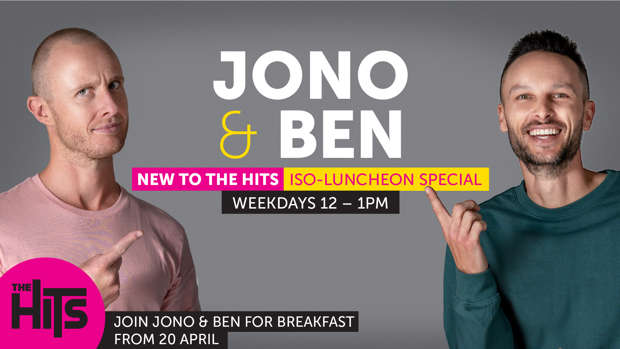 Join Jono and Ben who have pressed snooze on the Breakfast alarm and will be rolling out of bed for a new pop-up show on The Hits, starting midday on 6 April, ahead of their scheduled breakfast show which kicks off 20 April.
The midday Iso-Luncheon is an hour of radio for all Kiwis, featuring Kiwis (the famous and the not-so-famous) who are staying home, doing their bit for the country. The boys have described it as an hour of radio aimed to help during these anxious times by raising your spirits without actually hitting the spirits.
So, round up your bubble and tune in to Jono and Ben, before they move to their new home on The Hits Breakfast (6am – 9am) weekday mornings.
Jono and Ben's Iso-Luncheon is available across The Hits network and on iHeartRadio. Find your frequency at thehits.co.nz or download the iHeartRadio App for free.
Follow Jono and Ben on Facebook and Instagram for all the latest laughs.