ZOOM-A-THON: Jono and Ben complete the world's longest Zoom call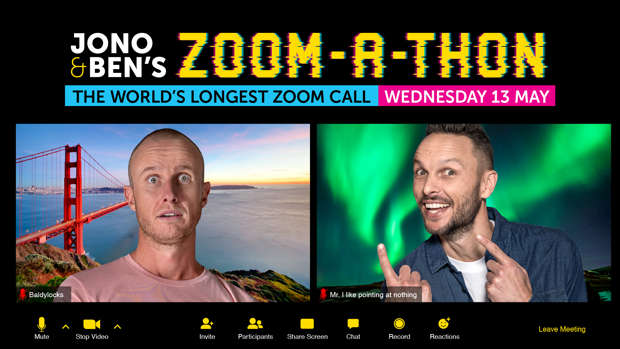 Ben came up with the harebrained idea, he twisted Jono's arm and got him across the line ...
And they did it!
Watch Part One below:
... and Part Two: 
... and Part Three:
... and Part Four:
From 8am on Wednesday, May 13 Jono and Ben embarked on the Zoom call to end all Zoom calls! 
Their aim was a full 24 hours, but in the final hour the Zoom call dramatically cut out - making their time 23 hours and 39 minutes - which is still a new world record!
They called up everyone from celebrities, comedians, actors, sports stars and everyday kiwis to join the call as they embarked on the World's Longest Zoom call.
Watch the full Zoom call is being streamed here and on our Facebook page!
Follow Jono and Ben on Facebook and Instagram for all the latest laughs and check out their new podcast on iHeartRadio.