The Hits Breakfast has a proud new partner
Publish Date

Wednesday, 20 September 2017, 2:36PM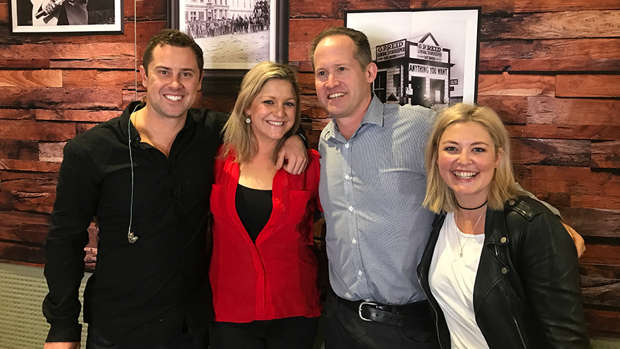 The Hits Breakfast team are proud to announce that Jennian Homes, New Zealand's most awarded and trusted builder, has joined the show as the new principal sponsor.
Jennian Homes has a rich 35-year history in New Zealand with a strong focus on community.
Jennian Homes is the proud partner of the Heart Foundation Lottery, building six homes per year for the Lottery programme. Every home is part of the journey for Jennian, supporting the charity's community care programmes, life-saving heart research and training.
Jennian Homes has also partnered with the NZ Olympic and Commonwealth Games teams and New Zealand Golf to help elite athletes succeed on a world stage. "We couldn't think of a better partner" said Todd Campbell - The Hits Content Director.
The partnership will see the show hosts; Sarah, Sam and Toni roll up their sleeves to help drive engagement and awareness of some of the community focused programmes that Jennian Homes supports. The hosts are excited by the partnership. "Knowing that our new show partner has such strong ties to the community and are behind our Kiwi Olympians and Commonwealth Games athletes is awesome" said Sam Wallace.
For Sarah Gandy, helping support Jennian Homes with the Heart Foundation has a special connection. "Like many people, heart issues have affected my family. The partnership between our show and Jennian Homes makes me feel very proud that we are working on some great goals together".
Toni Street commented on the partnership, "Not many people know this, but I absolutely love golf and if I could find more time, I would be working on my skills a lot more. I am delighted that alongside us, Jennian Homes supports New Zealand Golf, especially with so many great female kiwi golfers coming through".
Aidan Jury, Chief Operating Officer for Jennian Homes, is equally passionate about what the partnership represents "a multi-platform approach and partnership with the dynamic breakfast team of Sarah, Sam and Toni ensures our national brand reinforces further our Jennian Homes position in the local community – we look forward to having some fun together".
Wake up happy to Sarah, Sam and Toni on the Hits breakfast 6-9am weekdays.