Listen to the heart-melting moment one brave Kiwi proposed live on air to their partner!
Love really is in the air today!
Being Valentine's Day, Laura, Sam and Toni decided to help one Kiwi declare their love - and well; it got us all right in the feels.
The Hits team invited Tania live on air – who after being best friends for 20 years - decided she wanted to pop the question to her partner Danny.
"He lives up in Auckland and I'm in the Rangitikei, he has just handed his notice in at his job and will be moving down with me in April this year," Tania told Laura, Sam and Toni. "As well as being my partner he is my best friend and would love to purpose to him and make it official."
Tania admitted she was nervous to be proposing, but that didn't stop her from sharing some heartfelt words before asking for his hand in marriage!
"Well, Dan it's been 20 years of knowing each other, what can I say? But I love you to the moon and back!" Tania told Danny, live on the radio. "We've been through good times and bad times together, and you are my best friend and the one I always turn to, I can't wait to spend the rest of our lives together.
"So on this day, being Valentine's Day, will you make the happiest woman alive and be my husband? Danny Douglas, will you marry me?"
And after a moment of taking everything in, and brushing away a year, Danny, of course, said: "yes, I will!"
He then went on to explain how much Tania means to him, saying "she's very special, she's got a kind heart, I love her to bits.
"We've always cared about each other a lot; we mean the world to each other!"
How magical is that?!
What's more, Laura, Sam and Toni wanted to through in an extra surprise for the newly engaged couple: a $5000 engagement ring, thanks to Michael Hill jewellers!
The stunning solitaire engagement ring boasted a one-carat diamond set in 14ct white gold – so beautiful!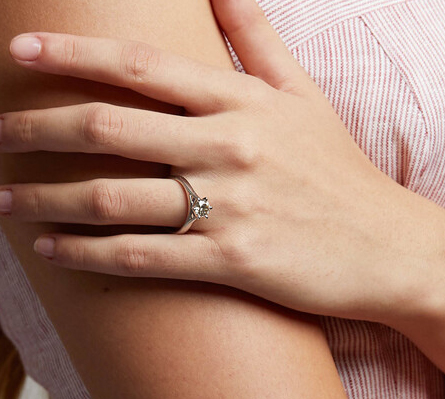 Get the tissues ready and listen to how it all unfolded above.
Congratulations, Tania and Danny!