This is what it's really like to be at Coldplay's Music of the Spheres concert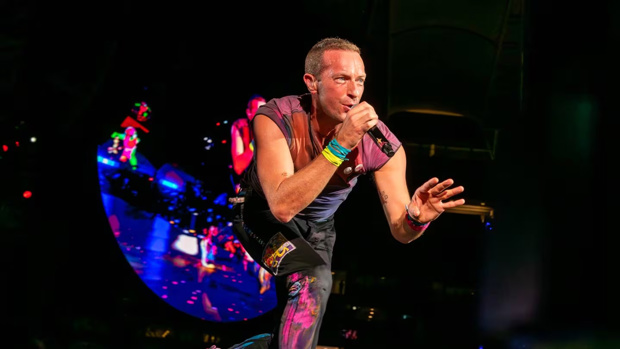 In the realm of live music, certain performances transcend the ordinary, turning into something more like a spiritual journey than just a concert. Coldplay's Music of the Spheres in Perth was exactly that — an ethereal, out-of-this-world experience that left the audience captivated, entranced, and utterly spellbound. 
The night at Perth's Optus Stadium began under a veil of anticipation. The air was thick with excitement. Opening the show was Australian singer Amy Shark, who took to the stage with her laid-back yet epic performance. She charmed the crowd by declaring, "Coldplay is the greatest band in the world!" – and she might be right. 
Then, the countdown began. "Three, two, one…", and like a cosmic explosion, Coldplay burst onto the stage. The opening notes of Higher Power from their latest album rang out alongside fireworks, confetti, and a kaleidoscope of lights. 
The setlist was a masterful blend of nostalgia and novelty, with the band's iconic "classics" intermingled with their latest hits. Each song took me on a journey through different memories and emotions. 
The stage became a canvas for a breathtaking spectacle. Giant balloons, resembling planets, danced through the air. It was a playful reminder of the joy and simplicity of life, although my only disappointment came from not being able to boop the balloons (they were too far away). 
The unexpected appearance of "The Weirdos", a band of singing Muppets, during Human Heart added a surreal - if somewhat bizarre - yet heartwarming layer to the night. It was quirky but charming. 
But the most transfixing moment came with A Sky Full of Stars, a song I've told many people is my favourite Coldplay hit. As Chris Martin's voice soared, the stadium itself transformed into a sky full of stars, thanks to audience members' LED wristbands twinkling in sync. To misquote another famous Coldplay song, I had "tears streaming down my face" at this very moment. 


Giant balloons danced through the air at Optus Stadium. Photo / Live Nation
Coldplay's commitment to the planet resonated deeply, as the concert was partly fuelled by renewable energy, with bikes and a jumping dance mat. The environmentally friendly wristbands and the band's initiative to contribute to tree planting and ocean clean-up were not just impressive but inspiring. 
At the core of this spectacle was Chris Martin; a magnetic, humble man. His interactions with the crowd were genuine, unscripted and deeply human. Singing Paradise acapella with the crowd was another moment I'll never forget. 
The performance of Yellow was a poignant moment, too. As the stadium lit up in the colour, it reminded me of the band's legacy and the timeless nature of their music. 
For many, myself included, this concert was more than entertainment — it was a pilgrimage. For one, Perth is incredibly out of the way for us Kiwis. But in the few days I spent there, I quickly fell in love with the city and Western Australia. 

At the core of this spectacle was Chris Martin; a magnetic, humble man. Photo / Live Nation
I'm incredibly sentimental, and Coldplay's music has been there for me during some very dark times in my own life. It has been a source of comfort and strength. Hearing those songs live, feeling the waves of emotion ripple through the crowd, was a chance to reflect on the difficulties I've overcome. 
As the night drew to a close, I felt profoundly grateful. Grateful for the music, for the memories, and for the shared experience of something truly magical. The band left us with a final, resonant message: "Believe in love." In a world often divided, it's a touching reminder of the unifying power of love and music. 
Coldplay's Music of the Spheres is not just a concert. It's a transformative experience. Everyone must see this spectacle. 
- Brin Rudkin 
Want tickets to Coldplay's Music of the Spheres world tour in Auckland's Eden Park on November 13, 2024?
Pre-sale tickets will go on sale 10am on Wednesday, November 29 and be available until 10pm on Thursday, November 30.
To access the pre-sale, sign up at Coldplay.com before Friday, November 24. General tickets go on sale on Friday, December 1 at 10am on LiveNation.co.nz. 
Take your Radio, Podcasts and Music with you