Estelle Clifford opens up ahead of celebrating her very first Mother's Day with baby daughter Ava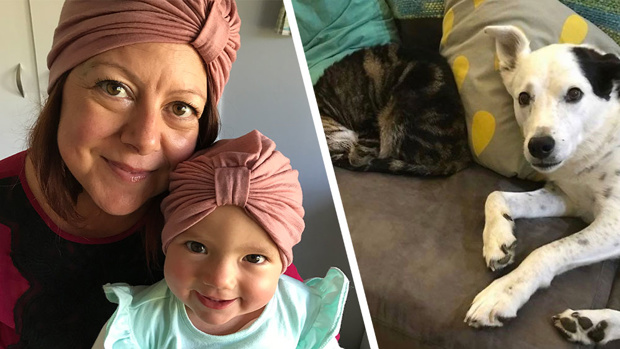 This Sunday I'll be celebrating my first Mother's Day with our wee girl Ava and her first birthday!
Confession time, as I try to claim my first Mums Day - For the past ten years, I have celebrated Mother's Day.

With cards and presents, breakfast in bed, all courtesy of Hogan and Penfold. Yep! The dog and cat.

I've always been proud to be a fur-kid mama, love the ones you're with, right? And those two have been a huge, non-judgy, unconditional love, support base for me … ok, ok not so much the cat, but she sure does keep me sassy!



And so I thought it would be for future Mother's Days to come.

This time last year I had no idea that I was only a couple of weeks away from bringing home a newborn baby and settling into life as a new Mum.
Our journey to becoming parents had been a long one of emotional, and physical, highs and lows and my man and I had decided our purpose was to rock-on as the fun Aunty and Uncle to our fabulous tribe of nieces and nephews and plan our next trip to Vegas!
Our adoptive parents' profile book had been with Oranga Tamariki for three years, it seemed unrealistic to us to keep hope alive and we were preparing to tell our case manager at our next renewal that we'd decided to take ourselves out of the pool.
Funny how these things work out sometimes huh?
When the phone rang that life-changing afternoon, it was a Tuesday, I remember it in heightened detail. I made the assumption our case manager was calling to book in our next catch up but when she spoke those words, the ones that make you hear your blood swirl in your ears, that take you completely off guard – "Are you sitting down?" Those Vegas plans were quickly forgotten.
"You've been chosen!"
We met Ava on a Friday. She was one week old. She was perfect.



I gave my heart fully to her that day, despite any caution we should take that the birth parents could still legally change their minds. I just never harboured any concerns on that. Just give it your all and what will be will be.
We took Ava home the following Friday. The last day of May.
It was the start of a long weekend, the weather was thunderous and Gibby drove us all home the slowest I have ever known him to drive, yelling at people to 'look where you're going!!'
We were buzzing!
The singular week from finding out we'd been chosen, meeting the birth family, meeting Ava, visiting her each day, collecting supplies, being delivered supplies, sorting our working lives, sharing the news with our families was the most exhilarating week of our lives. I cried most nights in those final few days waiting 'til we could bring her home. I felt so connected to her, I yearned for her, I thought about her constantly.

Ava proved to be a very strong baby and settled like she knew what was going on. She trusted us immediately, she was relaxed, drank well, slept well and it was euphoric.
Then the first evening on my own came. So too did the spew angels on the floor! Who knew a teeny tiny baby could projectile vomit over your shoulder into the dogs' bean bag behind you? And that as you'd turn to assess the damage, vomit again where she'd eventually lay, creating said spew angels as you figured out where to start clean-up?!
Everyone tells you it goes so fast. How true. I'm so pleased I followed the age-old advice to sleep when the baby sleeps, to not worry about the housework and to enjoy all of those baby snuggles.
I look at Ava today and I almost forget it was a mere few months ago that she wasn't able to move around on her own. And as we head into her first birthday the changes seem daily.

I feel so proud when I watch her pick up her soft toys or dolls or night light (yea, that ones weird) to give them a smooch and a hug. The little things you've been doing with her for months suddenly coming back at ya. She walked from the lounge, round a corner and into the kitchen today. How?! How has this happened?
No matter what kind of a day it has been, Ava's baby giggle breaks me every time, it's the most overwhelming cuteness I have ever heard. Long may her laughter fill my heart.
I have the utmost respect for her birth family. They have given us the most incredible gift. I am sure their journey has been full of highs and lows too. We asked them if they had a religion they hoped we would bring Ava up in and they replied that their religion was Love. And so it is that Ava the Brave is surrounded in love. Her extended whanau warms my heart and makes me bubble over every time I think about it.

How lucky are we?
There were five in the bed and the little one said 'move over, move over' – so they all snuggled in and Dada made pancakes and strong coffee and no one fell out, although there were some really, really close calls thanks to wriggle-pants Ava!
- Happy Mama's Day xo Estelle