Hero Local Cop Says He'd Do It All Again
Publish Date

Friday, 7 August 2015, 3:26PM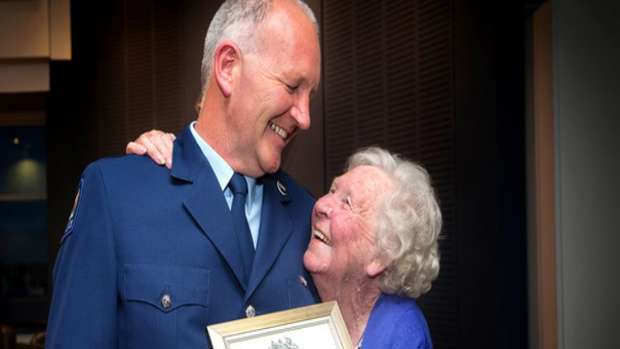 Hero cop Senior Constable Adrian Oldham was honoured at a mayoral presentation last night - in front of the woman he risked his life to save, his family and his colleagues.
Mr Oldham was presented with the Bronze Medal award more than a year after his life-saving rescue of 78-year-old Neta Lawrence, who had been trapped in her burning home in Mount Maunganui last July.
"I am very humbled and proud to receive this award," Mr Oldham said.
"It's what I do, it's just my job and I'd do it tomorrow at the drop of a hat."
Mr Oldham had come across a house with smoke and flames billowing from it. He knocked on a glass door and saw Mrs Lawrence's face appear through a smoke-filled room moments before she collapsed.
Mr Oldham forced his way into the burning house through a small side window. It took him two attempts to get the woman from the blaze, with help from fellow police officer constable Shane McCarthy.
Mrs Lawrence expressed her love and gratitude towards Mr Oldham who risked his life to save hers.
"If it wasn't for Adrian, I wouldn't be here. I just love Adrian for who he is and what he did for me," Mrs Lawrence told the Bay of Plenty Times.
"He's the darling of my life."
Mr Oldham's children, Kate and Sam, were proud of their dad and described the award as "moving".
"She's a really special lady and we're really proud," his daughter said.
A faulty electric blanket switch sparked the fire which engulfed her home in moments.
Mrs Lawrence described how she only remembers the fire up until the point where she saw Mr Oldham's face on the other side of the glass.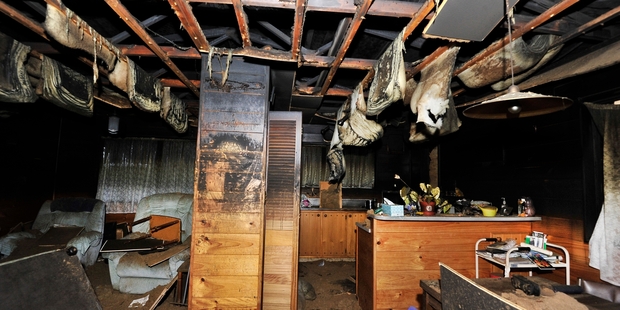 "It's something you can never forget and it's something that is there and quite often I can see it," Mrs Lawrence said.
She held on to him tightly as a small but private crowd made up of close family walked into the Tauranga City Council chambers where Mayor Stuart Crosby awarded the bronze medal.
Bay of Plenty District Commander Superintendent Andy McGregor, Inspector Clifford Paxton, Sergeant Phil Gillbanks and Constable Shane McCarthy stood by proudly as Mr Crosby spoke of Mr Oldham's heroic efforts.
Read the orginial story here: Hero cop saves elderly woman from house fire
"This bronze medal represents the magnificent action that you took and you put your own life at risk to save Neta," Mr Crosby said. "On behalf of our whole community and policing team, thank you."
Mr McGregor also took the opportunity to commend Mr Oldham for his act of bravery .
"It makes us so proud to be a police officer when you see acts like what you have done," he said.
Mrs Lawrence now resides happily at the Carmel Country Estate retirement village in Ohauiti where she tries to keep in contact as much as possible with her "hero".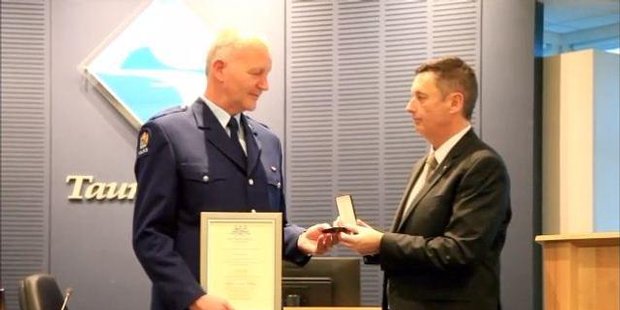 Source: Bay of Plenty Times