PM's Meeting In Katikati Draws Angry Protest
Publish Date

Thursday, 3 September 2015, 3:41PM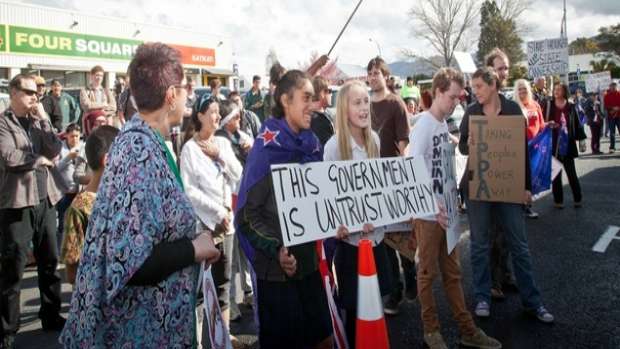 Chants and heckles rang out from the 100-strong protest group as John Key entered through a side door at Katikati Memorial Hall yesterday.
"Two, four, six and a bit, our Prime Minister's full of ... what?"
The Prime Minister was briefly in town to host an invite-only meeting for the Coromandel electorate, met by a crowd of disgruntled locals.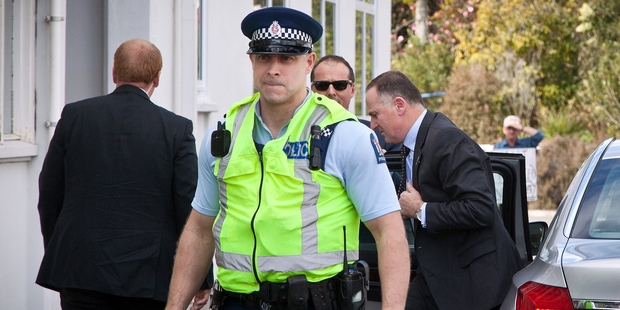 Tight security was in place for the PM's meeting at Katikati Hall.
"John Key, you've got mail. Aotearoa's not for sale."
"Key out, Key out, Key out," some yelled, while another section started up "Keep the flag, change the Key".
Banners and placards reiterated many of the chants, reading "TPPA, taking people's power away". A schoolgirl's sign read "This Government is untrustworthy", another, "State houses - keep state ownership" and "Serco cynical sell-out".
You'll see from the signs, there's a whole lot of issues concerning people," Katikati local Paul O'Neil said.
"I would say to him, he's selling us short.
"People are concerned with the sale of state homes, the sale of state assets."
Between chants, Mr O'Neil presented a speech to the other protesters, addressing his main issues, which was met with cheers and yells of support.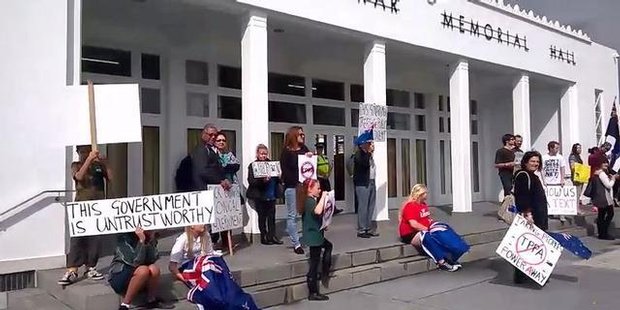 Video
Despite the protesters' best efforts, the curtains of the hall were closed, windows were shut and Coromandel MP Scott Simpson said the meeting inside went ahead without disruption from outside.
Mr Key spoke about the Chinese economy and consumer demand, tourism, the exchange rate, how much the Government had spent to rebuild Christchurch, the deficit in housing in Auckland, and how the New Zealand economy was much more diversified than people thought.
He laid out some facts about the Trans-Pacific Partnership Agreement (TPPA) - a free trade agreement that will include 12 countries - and outlined why the protesters may be concerned and why they should not be. And, "to spice things up this afternoon, we'll talk about the NZ flag".
To gauge the feeling of the crowd, he asked for a show of hands from those for and those against changing the NZ flag - the result was fairly even. After taking people through some of the rationale behind it, Mr Key said, "we love our flag but we don't use it".
He asked the crowd again, "if you want to keep the flag put up your hand".
There was a bit of laughter as about only eight hands went up.
Much to the disappointment of the crowd waiting in the rain outside, Mr Key quickly headed away, with only a quick wave in response to the heckles.
"Scaredy-cat cat, scaredy-cat," one lady yelled.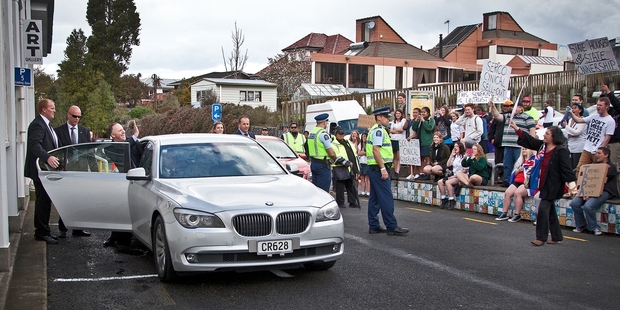 Prime Minister John Key responds to chants and heckles with a grin and a wave.
Katikati man Ken Allen was disappointed Mr Key did not stop and address the crowd outside.
Mr Allen's main concern was the flag debate, believing it was the first step towards New Zealand becoming a republic, and it was "utterly ridiculous" to invite royalty to New Zealand during this time.
"The fern has always been a sporting flag, not a national flag. He's taken away freedom of speech and democracy."
Tracy Livingstone, who ran for parliamentary election for the Social Credit Party, said she had been reading what was available about the TPPA for the past year.
"Nothing that I've seen yet makes me feel confident that they're doing the best thing for everyone. I see it being really bad for us.
"I'm worried because all anyone in the National Government has said is 'don't worry, it'll be fine'."
Another concern from many in the crowd outside was how the "invite only" list was formed, a number felt Maori were under-represented.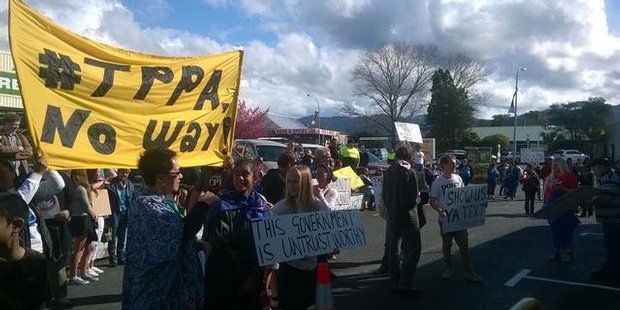 Video
Mr Simpson said he had sent invites to a randomly selected group of people in the Coromandel electorate, in order to get a random cross-section of the community, National followers or not.
Maori people who were enrolled in the Hauraki-Waikato electorate, not the general Coromandel electorate, would therefore not have been eligible for an invite to a Coromandel electorate meeting.
Mr Simpson said the protesters did not disrupt the meeting and that Mr Key acknowledged their right to protest.
Additional reporting by Chris Steel
Source: Bay of Plenty Times