Steven Adams coming to Tauranga for one kids skills clinic!
Publish Date

Thursday, 30 July 2015, 12:02PM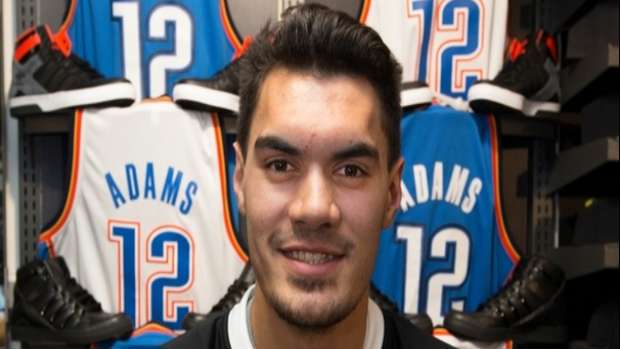 Kiwi NBA basketball star Steven Adams will share his skills, time and knowledge with aspiring young Bay of Plenty players next month.
The Oklahoma City Thunder centre, who this year has overcome various injuries including a broken hand, announced this week he was not available to play for the Tall Blacks against Aussie.
But the Bay of Plenty Times can today reveal he will travel to Tauranga for a New Zealand Basketball Academy coaching clinic.
The 22-year-old would be accompanied by Oklahoma City Thunder assistant coaches Mark Bryant and David Bliss, who were keen to check out the level of basketball in New Zealand and see the sights around the country.
Adams' brother and former Tall Black Rob Tuilave, who lives in Papamoa, told the Bay of Plenty Times arrangements had been confirmed and he was hopeful other NBA players could be persuaded to visit the Bay in future.
"I spoke to Steven yesterday. There has been a lot of player movements this summer in America, so a lot of his friends have new coaches, new rules and new systems, so his teammates won't be coming this year
But he is hoping, and they have told us themselves, they are keen to come over next year."
Tuilave said he had met the team and cooked them a hangi in Oklahoma, with sweet potatoes, pork, lamb and turkey
Kenny McFadden, an American former professional basketball player who coaches in New Zealand, would also be at the Tauranga clinic with a team from Wellington. Tuilave said it was a coup for the city to have the impressive line-up.
"Steven trained under the guidance of Kenny ... he was like a father figure. But what a lot of people won't know is that, at 6 o'clock every morning for three-and-a-half years, he [Adams] trained and did certain skill sets and drills, which basically helped him get where he is today."
The Tauranga camp was open to 300 children aged 7-17. However, Basketball Pathways, which was founded by Tuilave, would sponsor 50 kids who could not afford it, he said. Giving back to the sport and, more importantly, the kids was their main motivation, he said.
Tuilave remembers his best friend's parents buying him basketball shoes as a 15-year-old and said he knew what it felt like to be brought up in a poor family. It was also about the kids for Adams, he said, and they would hate anyone to miss out. "It's definitely all about the kids ... now he is this bloody flag carrier and it's awesome. Let's face it, the kids are going to buzz out when they meet a basketball star and these coaches."
Tuilave said Adams himself was a big kid at heart who loved to eat, fish and dive.
It was those associations that led to the establishment of the Tauranga basketball camp, when Barrett Homes owners Grant Eynon and Michael Bryant met Adams on a fishing and diving trip.
They joined forces with Seeka chief executive Michael Franks to sponsor the event, while Adams had given his time for free. Mr Bryant said it was a no-brainer and could lead to huge opportunities for the Bay of Plenty if an ongoing relationship was fostered with Oklahoma City Thunder.
Source: The Bay of Plenty Times