'Breakfast' host Hayley Holt announces that she is pregnant with her first baby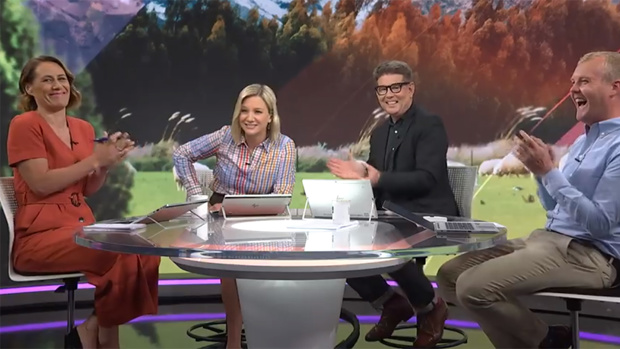 Congratulations are in order!
Breakfast host Hayley Holt announced this morning that she is pregnant with her first child.
Responding to viewer Terri who asked earlier this week if "Hayley was pregnant or is it just her outfit?", noting that her "bust and belly look quite full", Hayley said:
"I'm terribly offended. You know, it [was] Christmas. There were lots of Christmas puds and stuff going on and I'd get angry and maybe send someone over to see you ... if in fact, it wasn't true."
"Because yes, Terri I am pregnant. So I've finally told everybody."
Hayley's co-hosts John Campbell, Matt McLean and Jenny-May Clarkson applauded her announcement, with John even giving her a congratulatory kiss on the forehead.
"We're so happy for you," Jenny-May told her co-star with a warm embrace.
"And I'm so happy for this because I've wanted this for a very very very long time," Hayley explained, "and I thought my time was running out but it hasn't run out because it's happening."
"We're having a baby!" Matty excitedly added, quickly clarifying that he meant the "collective" we of the Breakfast team.
"We're so excited, obviously we've all known for a little while," John told Hayley. "You are going to be a beautiful mum, a beautiful parent, you are going to be fantastic. What more can a baby hope for in life than to be as wanted as that baby?"
"That's true, so wanted," Hayley added, "by me and everyone around me."
Congratulations Hayley!