Kendall Jenner reveals the hilarious reason she got her lip tattooed
Publish Date

Friday, 16 March 2018, 8:30AM
Kendall Jenner only got her lip tattooed because she was drunk.
The 22-year-old model had the word "meow" inked onto the inside of her lip in September 2016, but Kendall has confessed on  that she only had it done because she was intoxicated and wasn't able to think clearly.
Kendall said: "I was drunk!
"I was not thinking clearly. It was literally the first thing that came to my mind. I don't know, just my drunk thoughts."
Although she regrets getting the tattoo, Kendall insisted the inking didn't hurt too much.
She explained to the talk show host: "It's just like fattiness but it's not, like, bone hurts really bad."
Kendall already had another, less noticeable, tattoo prior to her lip inking.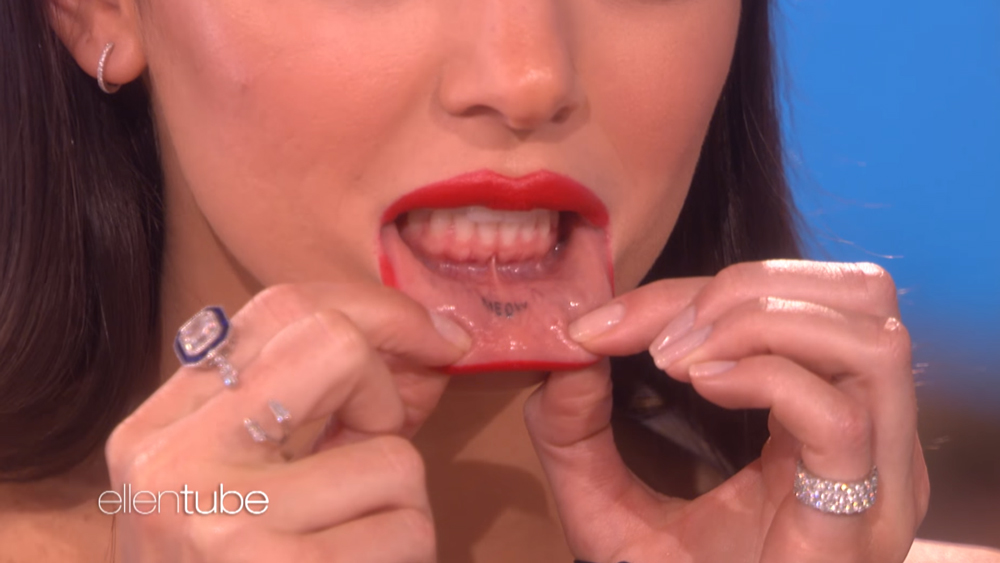 But the runway star seemed less bothered about the first time she went under the needle.
She shared: "My first one was a white dot because I just wanted to know what it felt like.
"All my friends have them! I just wanted to know what it feels like."
Meanwhile, Kendall recently confessed she is "down for experience" when it comes to her sexuality.
The model "doesn't think" she is bisexual and though she's never had a same-sex encounter, she wouldn't rule it out completely.
She said: "I don't think I have a bisexual or gay bone in my body, but I don't know! Who knows?! I'm all down for experience - not against it whatsoever - but I've never been there before."
Kendall also claimed that speculation surrounding her sexuality stems from her being more private about her love life than her sisters.
She explained: "I think it's because I'm not like all my other sisters, who are like, 'Here's me and my boyfriend!' So it was a thing for a minute because no one ever saw me with a guy. I would always go that extra mile to be low-key with guys, sneaking around all the time. You don't want to, like, look crazy...
"Also, I know I have kind of a ... male energy? But I don't want to say that wrong, because I'm not transgender or anything. But I have a tough energy. I move differently."
- Bang! Showbiz