14 new community cases and more details about virtual MIQ booking system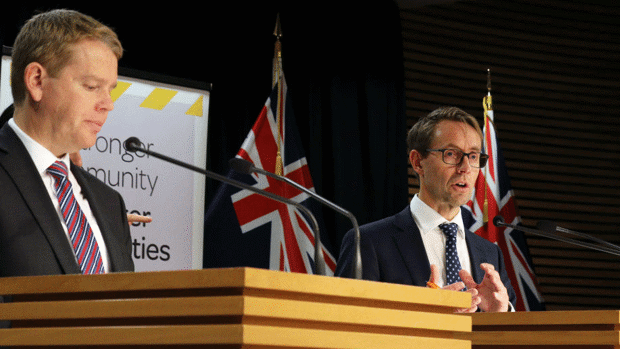 There are 14 new cases of Covid-19 in the community today - and an "unexpected" detection of the virus in wastewater north of Auckland.
All the new cases are linked to existing cases but three people were infectious while in the community, creating 10 new exposure events, director general of health Ashley Bloomfield said.
There was an increase in testing yesterday in Auckland with 10,341 new tests completed.
A worker at the SO/Auckland managed isolation facility had tested positive to Covid as a part of regular testing, he said. The worker was fully vaccinated and is now in quarantine. The Herald first revealed the positive result this morning.
On wastewater testing, there was one "unexpected detection" of Covid from Snells Beach, north of Auckland, said the Ministry of Health. It was from September 7 - a delay due to a logistical issue - and additional testing is underway.
New treatments for Covid-19
Bloomfield said there was huge support among doctors for the nation's vaccine program with a petition now circulating among doctors to show their support.
He said New Zealand had a fast approval process and was keeping up to date on the latest and most effective treatments for Covid 19.
He outlined three main categories of treatments for Covid that are being used or under consideration in New Zealand.
Bloomfield said all treatments of Covid complement rather than replace vaccines.
Jabs touch down
Covid Response Minister Chris Hipkins said 250,000 doses of Pfizer vaccine purchased from Denmark had just arrived at Auckland Airport.
He said more than 70 per cent of eligible Kiwis had now received one dose of Pfizer and 36 per cent have had two doses.
Ninety per cent of those aged over 60 have had their first dose
Hipkins said the main age group where "a lot of work" was needed to be done to boost vaccine numbers was with those under 40.
The Auckland DHBs had now vaccinated more than one million people. But by the end of this week, health teams wanted everyone in the city to have had the chance to ahve their first dose.
Along with pharmacies and more GP clinics offering vaccines, Hipkins said the vaccination buses will also hit the roads to offer jabs.
They will go to communities where vaccine rates are low or where it is difficult for people to get access to buses.
Health teams hope to operate 12 buses in the coming weeks.
New MIQ lobby system
More details about the MIQ virtual lobby system, exactly how it will work and when it will start are expected to be announced in today's regular Covid update by Covid Response Minister Chris Hipkins and Bloomfield.
The pair will also be asked about the Herald's revelation that Mongrel Mob members are isolating after an infected woman who left Middlemore Hospital before her test result visited a gang pad.
Spots in MIQ for overseas travellers were put on hold when the Delta outbreak in Auckland started and officials realised rooms needed to be kept free for people in the community who had caught the virus.
Only emergency vouchers have been made available to New Zealanders overseas since.
The new virtual lobby will allow people who enter the MIQ website within a specific window of time an equal opportunity to secure a room.
Entrance into the site will be random and will mean it will no longer be about who clicks on the room spot the fastest.
The lottery system has been praised by those who have described the struggle of trying to stay up all hours of the day and night waiting for an MIQ spot to become available.
Some people described desperate moves to try to get a spot - such as asking relatives to monitor the website at different times of the day in a bid to snag a spot.
Meanwhile the latest locations of interest include a petrol station in Manurewa and another shop on Dawson Rd, Clover Park.
Today's update comes as the Ministry of Health reported 15 positive cases of Covid-19 in the community yesterday. Two people with the virus were reported on the border.
All of the community cases were household contacts and all were in Auckland.
Eight of yesterday's positive cases have exposure events, the health ministry said.
Of the 953 people in Auckland with the virus, 382 had since recovered. Of the 17 community cases in Wellington, 12 have recovered.
Health officials said nine epidemiologically linked sub-clusters remained, with the two largest being the Māngere church group - 381 positive cases as of yesterday - and the Birkdale social network group, with 77 people with Covid.
Authorities also said nine clusters are epidemiologically unlinked.
A total of 22 people were in hospital as of yesterday's afternoon update: four in North Shore Hospital, 10 people in Middlemore and eight at Auckland City Hospital.
For more information visit covid19.govt.nz.
This article was first published on the NZ Herald and is republished here with permission.