90s VS 00s: Do you remember these iconic and nostalgic Kiwi adverts?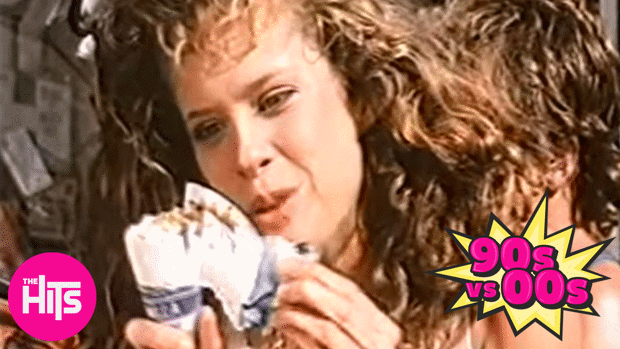 Memories don't get much fonder than sitting in front of the telly after school with a pack of Bluebird chips and a cup of L&P to watch a classic episode of Suzy Cato's "You and Me".
Long before Netflix, On Demand and My Sky, fast-forwarding ads wasn't possible - except when you were watching your recording of Shortland Street on VHS. But looking back, why did we ever want to skip out on these 90s and 00s clips?
Host to some of the most iconic lines of a generation - "Kiwi Burger that's our tucker" anyone? - they helped launch the career of one curly-haired ice cream fan and now offer a window into our society in those heady pre-millennium days "when coffee was black or white" and Watties tomato sauce was a defining characteristic of a Kiwi table.
This week we're throwing it back to simpler times, and reminiscing about the best Kiwi food ads of our childhood - dog food included.
And as the old saying goes "they just don't make 'em like they used to".
The top 10 Kiwi tucker ads of the 90s and 00s
L&P
The little town of Paeroa got one serious shout out in this ad, becoming "world famous in New Zealand."
Tux
If ever there was an unofficial anthem for Kiwi pets - surely it was this catchy tune.
"From Cape Reinga to the bluff, there's only one feed that's good enough...
It's Tux, keeps 'em full of life - fit as a fiddle, sharp as a knife."
Cadbury Roses
Before we started digging through boxes of Favourites for the Cherry Ripe, Cadbury Roses were the absolute go to.
What better way to thank your friend's mum for letting you stay over, than with a box of Roses?
Watties
This Watties ad felt revolutionary when it aired in the early 90s. Watching it now, we're taken back to a time when we used "a telex" instead of a "mobile phone", coffee was getting a bit too fancy and sushi was still considered an exotic cuisine.
Lift
A young Pua Magasiva starred in these hilarious ads inspiring Kiwis to "sharpen up" in the early 2000s.
McDonald's Kiwiburger
Ever wondered what the lyrics really where to this iconic jingle? You're welcome.
"Kiwis love Hot pools, Rugby balls, McDonald's, Snapper schools, World peace, Woolly fleece, Ronald and Raising beasts. Chilly bins, Cricket wins, Fast skis, Golf tees, Silver ferns, Kauri trees, Kiwi Burger love one please... McDonald's Kiwi Burger. The classic New Zealand burger. Cause We love All Blacks, Thermal daks, Egg & Cheese, Walking tracks, Beef pattie, Marching girls, Tomato, Lettuce and Paua shells, Gumboots, Ponga shoots, Floppy hats, Kiwifruits, Beetroot, Buzzy bees, Moggy cats, Cabbage trees, Onions, Kakapos, Kia Oras, Cheerios, Jandals, Sandals, Ketchup, Coromandel's, Swanndris, Butterflies, Mustard, Fishing flies, Hokey pokey, Maori haka, Kiwiburger, that's our tucker!"
Mainland cheese
In a series of sun-drenched settings full of cheesy banter, this adorable duo taught a generation of Kiwis that good things take time.
Sanitarium peanut butter
As a kid, this ad effectively made us nutty for peanut butter - while likely driving our parents nuts.
Bluebird chips
Without this classic ad would we ever have known that the bird was, in fact, the word?
Tip top
A young Rachel Hunter became a household name after this ad made waves across the country.
Which decade do you think was the most iconic?! 
This article was first published on NZ Herald and is republished here with permission.