Adele shares rare photos with boyfriend Rich Paul revealing exciting relationship news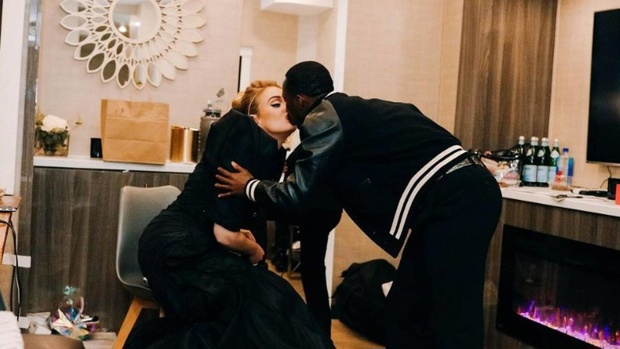 Adele and her boyfriend Rich Paul have taken their relationship to the next level.
The Easy on Me hitmaker -  who turned 34 earlier this month - revealed that she and her beau have just bought a house together.
In a set of rare photos of her and her 40-year-old millionaire sports agent boyfriend, Adele showed a snap of them holding keys in front of their new home.
The $58 million Californian mansion is set on a three-acre estate and was previously owned by Sylvester Stallone.
The 18,586 sq ft home boasts 12 bathrooms and a long driveway to keep things private, while the Los Angeles Times reports that the sale price is an almost 50 per cent discount from the 'Rocky' actor's original $110 million asking price.
"Time flies," Adele wrote alongside the post, which also featured photos of her and Rich kissing, and watching a sports match together.
This comes after the star says she's "never been happier".
In an Instagram post, she reflected on the positive changes in her life sharing two bare-faced photos of herself in a Carolina Herrera minidress taken by photographer Raven B. Varona.
Alongside the snaps. she wrote: "What a difference a year makes! If time keeps healing and smoothing out all the creases in my life like it does as the years fly by, then I can't wait to be 60! I've never been happier! So many lessons, so many blessings to be grateful for. This is 34, and I love it here! Thank you for the birthday love as always x(sic)"
Adele - who has nine-year-old son Angelo with ex-husband Simon Konecki and is currently in a relationship with Rich Paul - also recently teased that she's planning to have another child.
Discussing her delayed Las Vegas residency, she said: "Imagine if I have to cancel because I am having a baby!
"We are now working our a**** off, but I don't want to announce a new set of dates until I know everything will definitely be ready.
"The sooner I can announce the better, but I just can't in case we are not ready in time. It is absolutely 100% happening this year.
"It has to happen this year because I've got plans for next year."
The Hello hitmaker is keen to add to her brood but admitted motherhood has been exhausting.
She said: "It takes me a while to recharge, and I would like to have more children – I only just feel like I've caught up with my sleep from nine years ago when I had my son."
- The Hits, additional reporting by Bang! Showbiz