American Airlines passengers left in shock from this employees horrible actions
Publish Date

Sunday, 23 April 2017, 9:40AM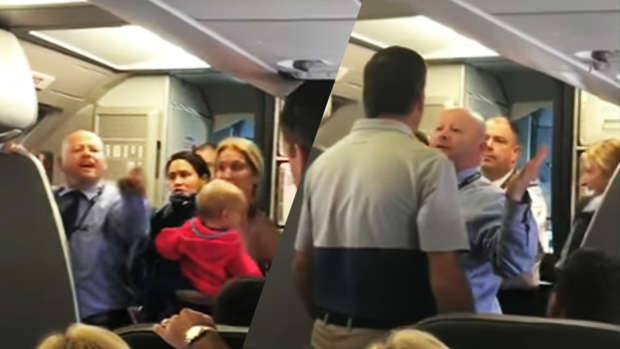 A shocking video has emerged showing an American Airlines employee challenging a passenger to a fight after allegedly hitting a woman with a stroller on a domestic flight.
The upsetting footage, filmed before Flight 591 departed from San Francisco on Friday afternoon, shows the airline staff member goading a passenger and saying, 'hit me'.
The clip was uploaded by passenger Surain Adyanthaya, who explained he started filming after the flight attendant "violently took a stroller from a lady with her baby on my flight, hitting her and just missing the baby".
Adyanthaya went on to explain: "They just involuntarily escorted the mother and her kids off the flight and let the flight attendant back on, who tried to fight other passengers. The mom asked for an apology and the AA official declined," The Daily Mail reports.
"After electing to take another flight, we are taking special care of her and her family and upgrading them to first class for the remainder of their international trip.
"The actions of our team member captured here do not appear to reflect patience or empathy, two values necessary for customer care.
"In short, we are disappointed by these actions. The American team member has been removed from duty while we immediately investigate this incident."
This is the latest PR nightmare for the US aviation industry.
It comes just two weeks after video emerged of a bloodied United Airlines passenger being dragged off a flight for refusing to give up his seat for staff.
This article was first published on dailymail.co.uk and is republished here with permission.