Auckland bar's 'drunk' Barney The Dinosaur sign sparks outrage
Publish Date

Monday, 15 October 2018, 3:23PM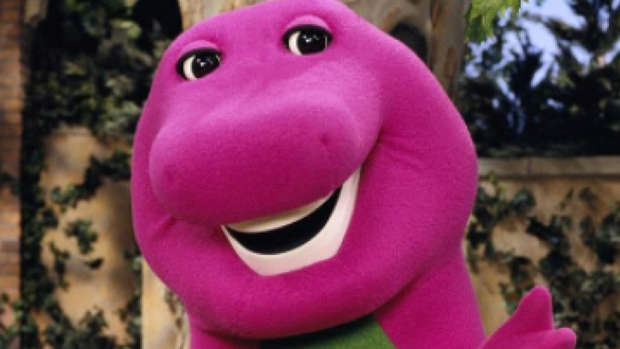 An Auckland bar has come under fire for their choice of message on an advertising chalkboard.
Takapuna Bar, who are well known for their comical adverts, have controversially depicted children's TV character, Barney the Dinosaur, as an alcoholic.
In the advert, Barney can be seen holding a beer bottle, singing: "I love booze. Booze loves me. Holy s**t I have to pee. I'm so drunk I'm falling on the floor. Alcoholic dinosaur".
And parents are not impressed.
"It's disgusting. A bar shouldn't be using a TV character children all identify with to encourage binge drinking and general alcoholism. New Zealand has a bad binge-drinking culture and to normalise it while making the advert attention-grabbing to children is irresponsible," said one mother.
Another said: "I'm not so sure advocating alcoholism is a good marketing scheme for a bar."
A third wrote: "Not a good look or idea."
READ MORE:
• Woman sparks outrage after revealing she sedates her kids
• Mother causes outrage online after letting her nine-year-old son get a tattoo
However, many others have shared their support for the "humorous" advert.
One person said: "This is what I love about New Zealand - you people get humour."
Another said: "Time to go to Takapuna Bar".
"I don't have a problem with it and wouldn't have any issue with my child seeing it. It's just funny, that's all. People need to lighten up a little. Your kid isn't going to end up an alcoholic because of a chalk drawing of a drunk Barney outside a pub. The more you make things taboo, the worse it is. If my child asked a question because of it, it'd be a great opportunity for an educational moment," a mum added.
According to the Sale and Supply of Alcohol Act 2012, it is an "irresponsible promotion of alcohol" if a business or person "does anything that encourages people, or is likely to encourage people, to consume alcohol to an excessive extent."
Principle 3 of the Code for Advertising and Promotion of Alcohol states "alcohol advertising and promotions shall not be directed at minors nor have strong or evident appeal to minors in particular".
What do you think?