Auckland to move to Alert Level 2, rest of NZ to Alert Level 1 at midnight tonight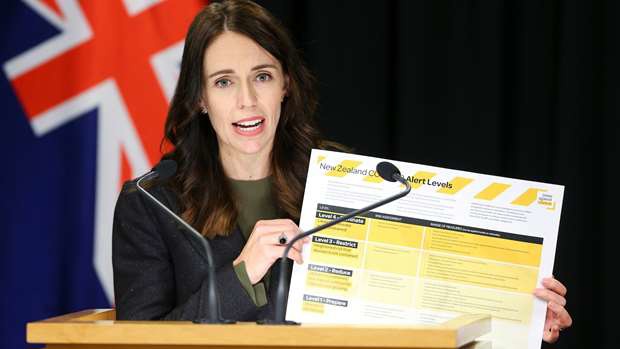 Auckland will move to alert level 2 at midnight today, despite a third new community case of Covid-19 being announced today.
The rest of the country will move to alert level 1. The alert levels will be reviewed again on Monday.
The Prime Minister has just made the announcement at a press conference alongside director-general of health Dr Ashley Bloomfield.
Cabinet met this afternoon to review alert level settings this afternoon, she said, before handing over to Bloomfield without providing further details.
A third member of the household who tested positive last weekend had also just tested positive, Bloomfield said.
There are five people in the household.
Bloomfield said it was "reassuring" all the new cases were linked and were identified through contact tracing.
They have been in isolation since Monday.
Bloomfield said "we should be encouraged" that all five cases have clear epidemiological links.
The new cases are being interviewed at home in "strict isolation" and the Health Ministry will release more locations of interest this afternoon.
Bloomfield said the two new cases at Papatoetoe High School were not at school when the were infectious but it will remain closed until Monday.
All students and staff will need a negative test result before returning to school.
Testing will remain open at the school so everyone can be tested.
Nearly 80 per cent of students at the school have tested negative, but there are still 363 tests outstanding.
Bloomfield reminded Aucklanders that health services were still open despite being in alert level 3.
Ardern said the latest restrictions will be reviewed on Monday.
Her expectation was if the country is in a similar position on Monday, it was likely there'll be another drop in alert levels.
Ardern said the evidence suggested there wasn't a widespread outbreak but a small chain of transmission.
There will still be some restrictions for people connected to Papatoetoe High School.
She reminded Aucklanders that gatherings were limited to 100 people, masks must be worn on public transport, hospitality venues could reopen with the restrictions and weekend sports could happen with the public health measures in place.
"If you are sick, please stay home - this continues to be one of our most important messages."
"There is every chance we will find further cases."
Ardern said if Aucklanders followed the rules at the weekend Cabinet would be in a better position to make their decision on Monday.
All Auckland businesses who've expected a 30 per cent drop in revenue will be eligible for the Covid Support Scheme.
Ardern said the outstanding test results were casual contacts which they didn't expect to have positive results.
Ardern said the level 3 lockdown had been necessary because it was "much, much better" to be cautious than try to stamp out a widespread outbreak.
Auckland Mayor Phil Goff welcomed the move to Level 2 for Auckland but urged people to continue following precautions.
"I want to thank Aucklanders for their efforts over the last few days. I know it has not been easy.
"However, today's cases show us a short sharp lockdown was necessary to hit this outbreak on the head. We are not fully out of the woods yet, so we need to be cautious.
"The vital thing now is for people to continue scanning their QR codes and get tested if they are feeling unwell."
Aucklanders should "take their alert level with them" if they leave the city, Ardern said.
Bloomfield said they were "quite comfortable" with the levels of negative tests at the high school and if anyone connected to that wanted another test they were able to do so.
The rest of New Zealand will be required to continue wearing masks on public transport.
The announcement comes after two new Covid-19 cases were found in the community and announced earlier today.
One of the two cases confirmed earlier this afternoon was a close contact of case A – the daughter who was confirmed Covid-19 positive with her father and mother on Sunday. They went to Papatoetoe High School together. The second new confirmed case is a sibling of the first.
The source of the family's infection is still a mystery.
Find out more about the different Alert Levels here.​
This article was first published NZ Herald on the and is republished here with permission.