Bindi Irwin shares adorable photo of newborn baby daughter Grace sleeping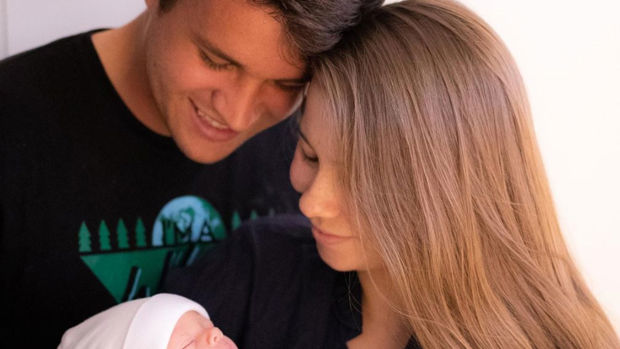 Two weeks after giving birth to her first child with her husband, Chandler Powell, Bindi Irwin has given fans their first proper glimpse at baby Grace.
Taking to social media, the 22-year-old shared a touching photo of her newborn daughter wrapped up in a beautiful floral outfit as she lay fast asleep in her cot.
Alongside the picture, she wrote: "Our beautiful girl, always dreaming."
Bindi and Chandler announced the birth of their newborn daughter on Instagram one day after they welcomed her into the world.
In a lengthy post, the new mother explained the baby's middle name was inspired by her late father, Steve Irwin.
She wrote: "March 25, 2021. Celebrating the two loves of my life. Happy first wedding anniversary to my sweetheart husband and day of birth to our beautiful daughter.
"Our graceful warrior is the most beautiful light. Grace is named after my great-grandmother, and relatives in Chandler's family dating back to the 1700s.
"Her middle names, Warrior Irwin, are a tribute to my dad and his legacy as the most incredible Wildlife Warrior. Her last name is Powell and she already has such a kind soul just like her dad."
Bindi and Chandler announced the exciting news they were expecting their first child together in August last year.
The couple revealed the following month they were expecting a daughter.
Bindi and Chandler tied the knot on March 25 at the Australia Zoo, which is where the couple first met.