Bindi Irwin shares touching tribute to her new husband a year after getting engaged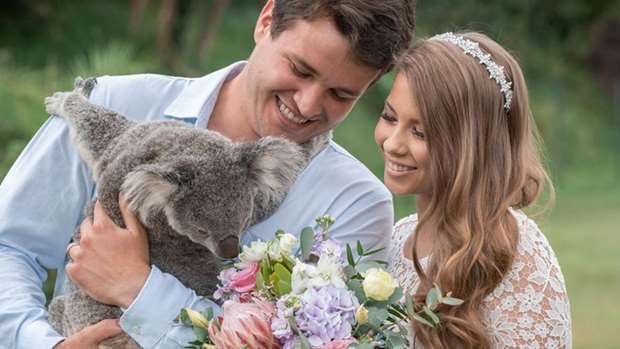 Bindi Irwin has shared a touching tribute to her new husband one year after he proposed.
Taking to Instagram, the wildlife conservationist shared a sweet snap of her and her husband Chandler Powell, who tied the knot in a private wedding ceremony earlier this year.
"Just over a year ago Chandler Powell proposed. Now I get to call this incredible man my husband. Here's to a lifetime of adventure together. My sunshine, I love you with all my heart," Bindi  - who is the daughter of famous Australian Steve Irwin - wrote alongside the photo.
In the comment section of Bindi's post, Chandler wrote: "I love you more than anything."
How cute is that?
The adorable tribute comes after Chandler shared stunning black and white photo of the pair on their wedding day, to mark Bindi's 22nd birthday last week.
"For the first time ever as a married couple; happy birthday to my beautiful wife," Chandler wrote.
"This year has been nothing short of epic and you have handled everything thrown our way with courage and grace.
"You inspire me to be a better person every day with how much love you have to give. Thank you for making the world a better and brighter place. My best friend, my wife, my everything. I love you."
Bindi replied with: "My husband, my sunshine, my world. I love you today, tomorrow, and forever."
Talk about cuteness overload!!
Meanwhile, Bindi's younger brother Robert, not only shared a birthday video for his older sister but also posted a previously unseen throwback photo of them with their late father.
"Thank you for being my best friend from the moment I entered the world," he wrote. "I'll always treasure the story of the first time you met me - it was around the time this photo was taken, just after I was born and you decided that it was your job to name me... and then promptly named me Brian!

"Dad then confirmed that my name was actually Robert but you still called me Brian 'for short'! Can't wait to celebrate today, I am so proud to be your brother! Love, Brian."