'Bird Box' designer reveals what the film's unseen creatures actually look like ... and the internet is laughing!
Publish Date

Monday, 7 January 2019, 11:18AM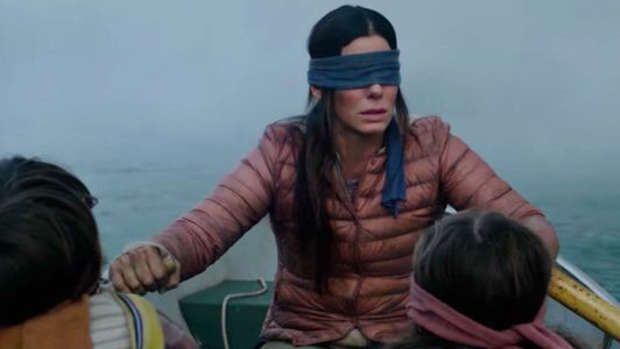 WARNING: This article contains spoilers.
If you haven't heard about Netflix's new post-apocalyptic thriller, Bird Box, you must have been living under a rock.
The smash hit horror, which stars Sandra Bullock, has already amassed over 45 million streams in just one week!
But many viewers have been left curious after watching the film, as the identity of the creature that caused mass suicides across the world was never revealed.
Until now.
And it's safe to say fans are not impressed.
Designer Andy Bergholtz took to Instagram to share four shots of the monster's prosthetics, along with the following explanation:
"Keep in mind, the fatal "vision" that each character saw would most likely be different for each person (you'll understand if you've seen the film), and this makeup appeared in a cut "dream/nightmare sequence" with Sandra Bullock's character."
"Considering her pregnant state and emotional arc through the movie, the producers felt Sandra's nightmare would have something to do with a twisted, demonic baby creature attacking her (that's as much as I could gather about the context of the scene anyway)."
"I sculpted at least 3 or 4 variations on the design before it was approved, which began as a more aggressive, monstery look and was revised to be a bit more subtle in the end."
In a recent interview, Bullock - who stars as Malorie, a woman forced to blindfold herself to avoid seeing the evil force - revealed seeing the creature made her laugh.
"It was a green man (Dirk Rogers in a spandex green-screen suit) with a horrific baby face," she said.
"It was snake-like, and I was like, 'I don't want to see it when it first happens. Just bring it into the room. We'll shoot the scene.' I turn and he's like this [growling at me.] It's making me laugh. It was just a long fat baby."
However, it was a last minute decision from director Susanne Bier to cut the "long fat baby" from the film.
We think it was for the better that we never saw the creature!