Bizarre 'Pony Up Daddy' toy saddle lets children ride their parents
Publish Date

Monday, 18 December 2017, 12:00PM
A toy saddle designed to help children ride their parents like horses has left social media users horrified and thoroughly confused.
The device, which is marketed under the name "Pony Up Daddy", is intended to make it easier for children to hop—and stay on— their parents' backs during "rides" around the house, all while protecting parents' shirts against tugging hands, the Daily Mail reports.
Parents are meant to strap the saddle around their chest and get on all fours. Then, the child can climb onto their back and hold on to a handle while the parent crawls around—a prospect that many find revolting.
"I would kill my whole family and myself if I had to wear this piece of garbage," one person wrote as a comment under a video ad for the toy posted onto YouTube.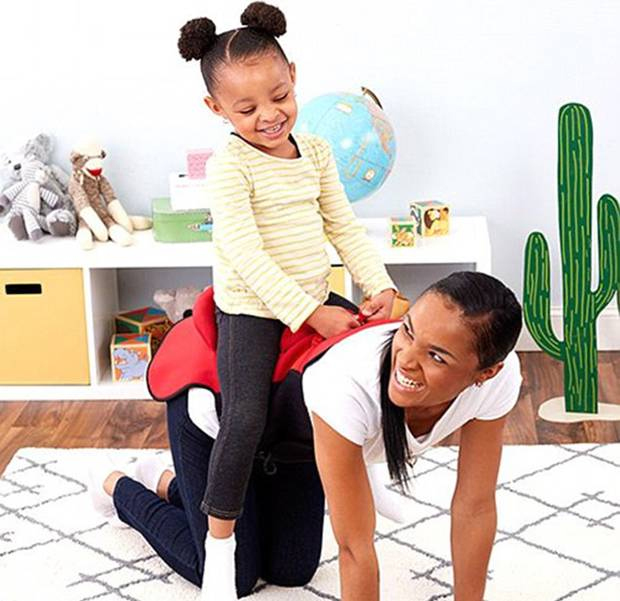 "Why on earth was this product even made? I legitimately can't think of a good reason why someone would make it," someone else added.
Another viewer could only sum up their feelings about the device with the words: "NOPE NOPE NOPE NOPE NOPE NOPE."
The saddle, which debuted last year, has been making the rounds on social media recently, with toy commercials receiving more attention in the lead-up to the holidays.
Twitter users have been cracking many jokes about the toy, and some can't quite decide whether they're most amused by its name or by its intended purpose.
"It's called Pony Up Daddy... There are too many jokes to make here. I can't pick just one," one person wrote earlier this year.
One woman found out about the toy saddle a while back and wasn't able to get it completely out of her mind.
"It's been months but I have fallen down a hole with Pony Up Daddy. I still think about it," she tweeted.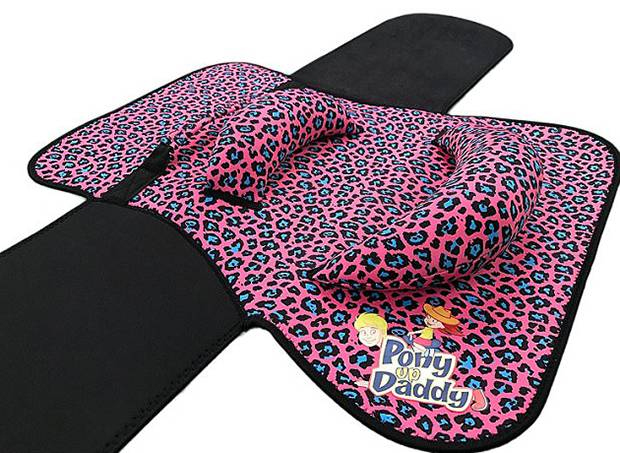 The toy, which was even featured in a Today show segment last year, comes in several shades including "princess pink", "sheriff blue", "raider red", "sassy leopard", and "zebra safari".
It comes with a NZ$50 price tag, and is sold for children two years old and up.
While some can't wrap their heads around the concept of the Pony Up Daddy saddle, others seem satisfied with their purchase.
A majority of users have given it a five-star rating on Amazon.
Ratings vary depending on the toy's color, but go from 65 per cent of five-star reviews for the pink saddle to 81 per cent for the red model. The leopard and zebra saddles, having received only one rating each so far, are not included.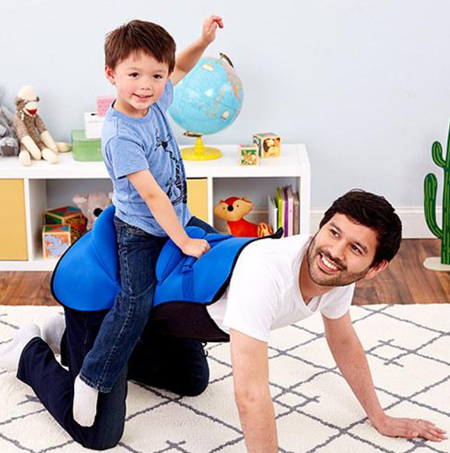 Some parents appear to be enjoying using the saddle with their kids, with one of them even wearing protective pads on his knees to carry his children on his back on a hardwood floor.
"After seeing commercials for this and with no ideas for my husband for Christmas, I got this for him," one person wrote.
"We have a three-year-old. And she found it very entertaining. Unfortunately Mom and Dad are not in their 20s or early 30s so we can't cart her around a ton. My husband does have to wear knee pads on our hardwood floors. But a cute idea."
Others have given the saddle as a gift to other parents, sometimes with mixed reactions.
"My son-in-law wasn't amused but once he got over the "what in the world" shock it was a blast!" one person wrote in a review. "He said it actually makes it more fun for the kids and easier on him to play pony rides! I recommend this 100 per cent!"
This article was first published on Daily Mail and is republished here with permission.